My dear readers, Let me tell you. This summer has been a good one. I have been busy living and enjoying life, family, and friends, so house projects/this blog have suffered. I keep telling Jeremy "I miss my blog." This is my stress-free creative outlet, and I'm not giving it up, but I have slowed down temporarily because I have been so busy on weekends which is my prime, non-working time to get things done.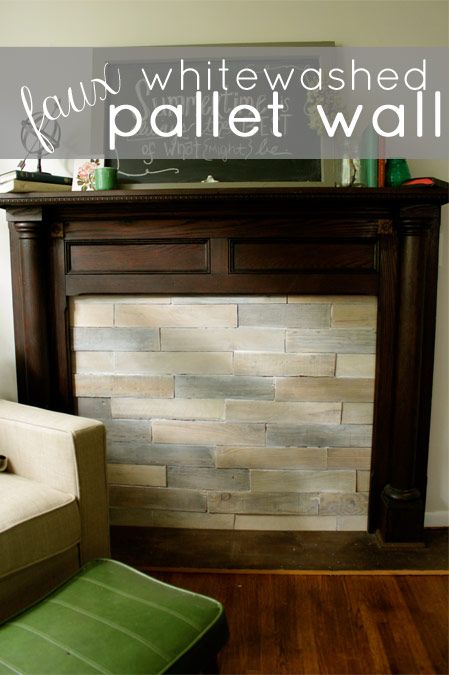 But I'm back on the map this week with a project that has been in the works for a long time. I have had the materials for many months, but I just hadn't taken the time to put everything together. When all is said & done, however, this is a pretty simple project, so I happily introduce to you, my whitewashed faux fireplace pallet wall. It isn't actually attached to the wall. It's attached to a cheap piece of plywood. And it cost me about $15 to make. And I think it makes such an impact where there used to be just blank space!
Materials needed: - a piece of plywood cut down in store to fit behind the mantel - pallets (I got these for free by just asking around. I asked on Facebook and a friend was getting rid of some. I asked at Home Depot a bunch of times and one time I got lucky, and the guy passed some along. You can also check craigslist). - A circular saw (for cutting boards) - Liquid nails (which I already had on hand) - Paintable painters caulk - Flat white paint (I picked up a sample pot from Home Depot for $2.98). - Paintbrush - Water - 80 Grit Sandpaper (and a sander if you want to spare yourself some heartache.)
1. Cut down the pallets into strips.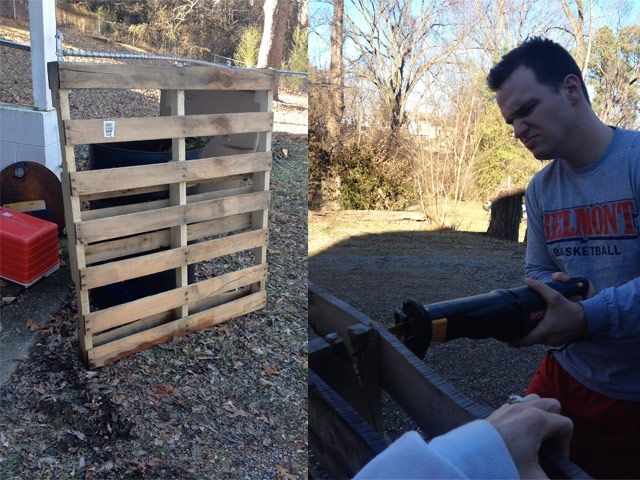 First Jeremy used a sawzall, but I think he realized a circular saw was the way to go on this. Basically we just cut in between the edges and center strip. One cut on each side of the nailed down sections, and you have a handful of strips from each pallet, and it's much easier than taking pallets apart and removing the nails. Also, Jeremy's face. Also, this was in the Fall. That's how long ago I started this project.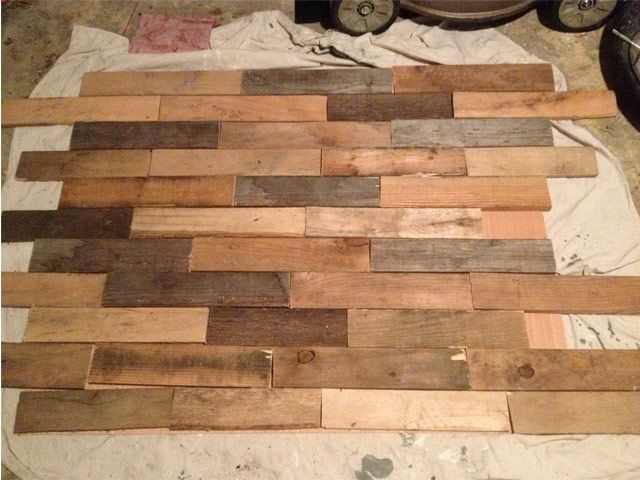 2. Lay out the boards Just lay everything out on your pre-cut piece of plywood (I got mine cut down in store at Home Depot. Make sure you leave a few extra inches on each side larger than the space you are trying to fill.) It would be fun to do a herringbone or chevron pattern, but it would be important that each board be the exact same length and width. For the sake of ease, and because I had so many different boards, I decided to keep it simple.
Make sure you vary colors and textures for added interest.
3. Glue down the boards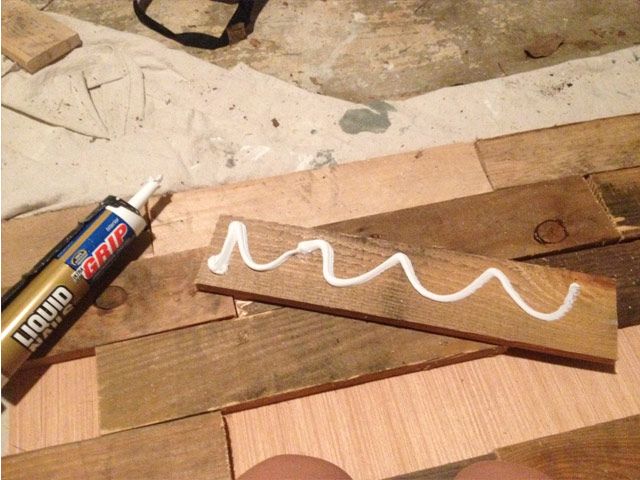 I used 1 and a half tubes of Liquid Nails, and it worked like a charm. I just picked up each board as a I went and squeezed it on in a zig zag pattern. 4. Sand everything down.
Because pallets have usually had a rough life, you will probably find lots of jagged edges, splintered wood, and uneven surfaces. I gave mine a good sanding with medium/heavy 80 grit sandpaper and my handy dandy orbital sander. I just wanted to rub out any loose wood splinters and rough edges.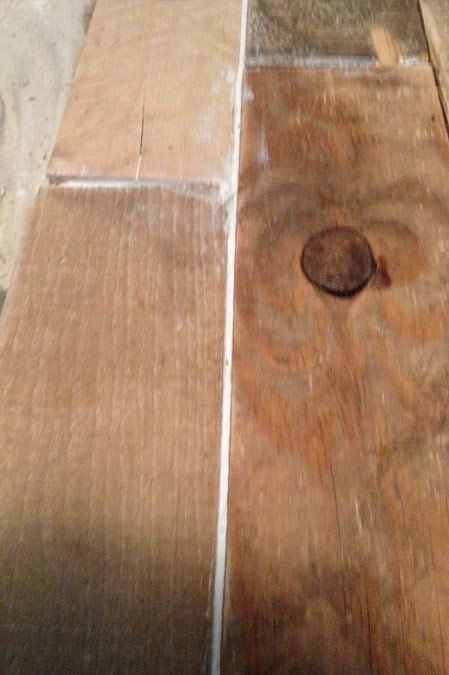 5. Fill in large gaps with painter's caulk. I used the basic white paintable caulk from Ace Hardware. I didn't fill in every gap, but because of the varying board sizes, there were some pretty large spaces, and since I wanted this to look like a more permanent fixture, I filled in the spaces.
6. White wash! [youtube=http://www.youtube.com/watch?v=2SQqXR-y-CQ&w=560&h=315] Here is a little tutorial on how I white washed the boards :-) I really got dolled up for the camera, as you can tell.
7. Cut down the edges to be flush with the original plywood board.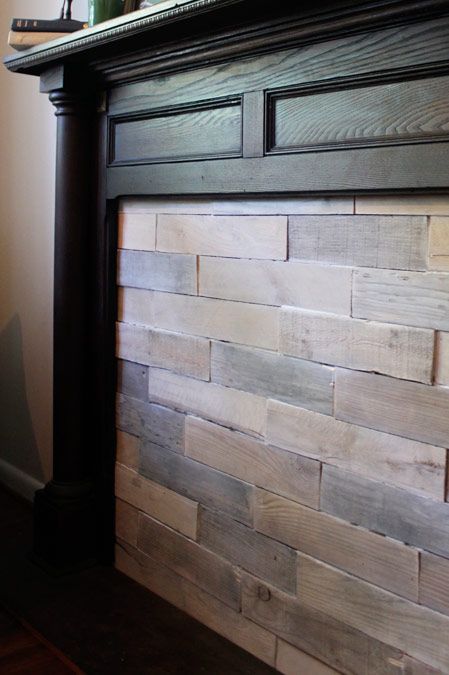 8. Install! We simply placed this behind the farmhouse mantel that I got on Craigslist last year. I originally thought we may have to secure it to the wall somehow, but it was light enough and the mantel heavy enough that simply placing it and putting the mantel in front seemed like enough!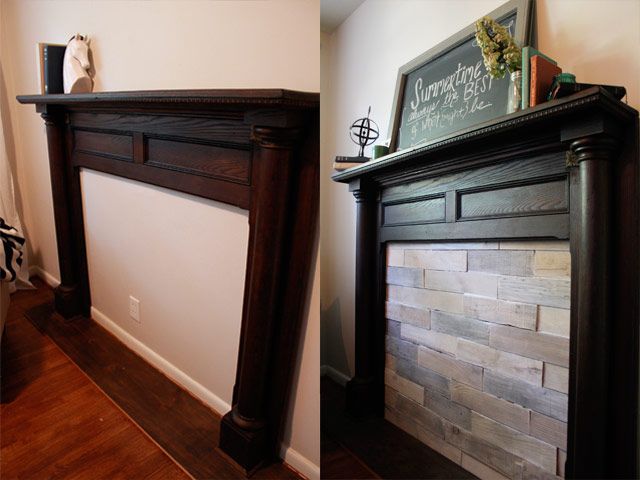 That's it. It makes such a subtle impact, and it really makes that mantel feel more intentional!
Stay tuned tomorrow for a full room tour of our office progress!
Thanks for coming back, y'all! I missed hang out!