Our basement is currently a mess. We are updating the bathroom, so there is wood everywhere, and we are planning a yard sale, so there is junk treasure everywhere, and we are changing the purpose of the guest room, so there is furniture everywhere. Congratulations, you're about to get a preview of our mess. I've mentioned it before, but Jeremy & I are musical people. I was a commercial voice major and he was an audio engineering major in college. As a result, I can sing and he can record it. It's a great little system. But, we haven't had a good space for that in quite a while. It's a lot easier to get stuff done if there is a place to go rather than trying to set up a makeshift studio on the kitchen table when it's time to record something.
Long term, we are going to finish out our garage and make it into our Master bedroom, move the guests upstairs, and have the studio in the current guest room.
For now, we are just going to convert the "guest room" into a studio space, move the guest bed upstairs to the room where I keep my clothes (temporarily), and keep saving our pennies for the garage conversion.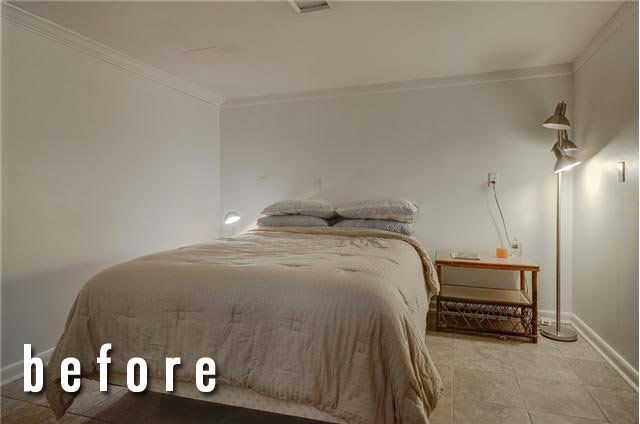 Here is what the spare basement room looked like in our house listing...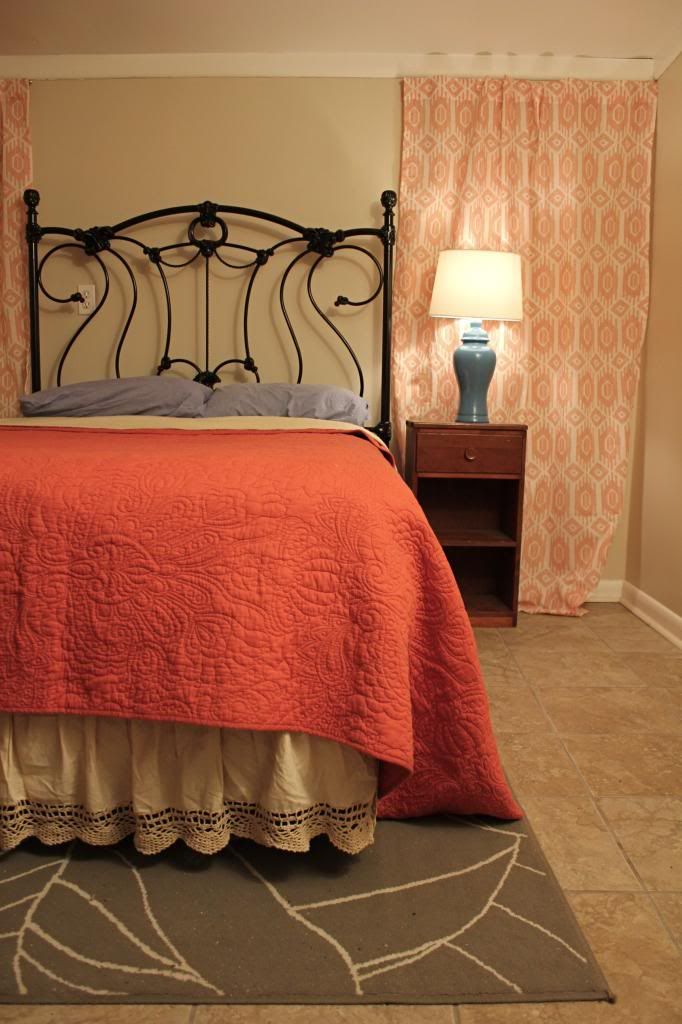 And what it looked like as a guest room after we painted it "Natural Linen" by Benjamin Moore and added some curtains and colorful bedding.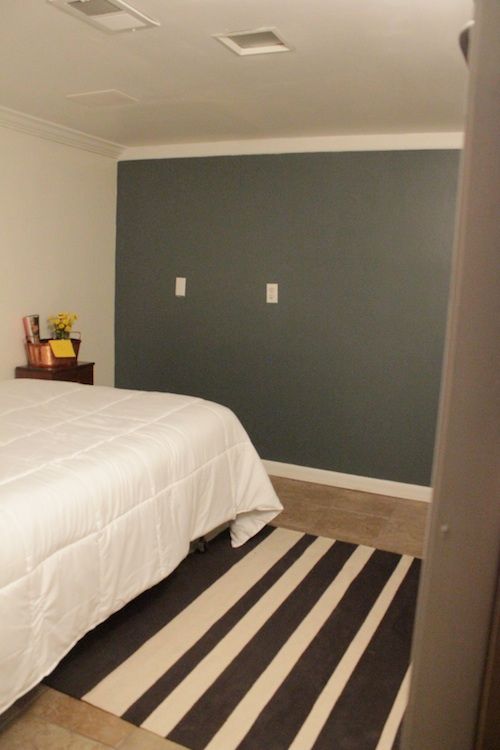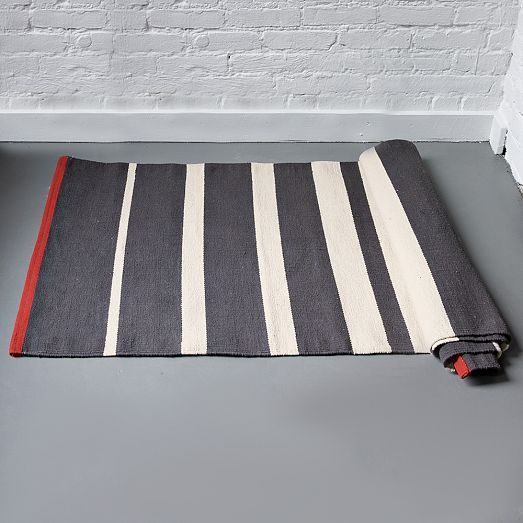 And now we've gone full circle. Back to white on three walls (White Dove by Benjamin Moore) with an accent wall in a blue-teal-green-gray color (Knoxville Gray by Benjamin Moore). The guest bed is staying in this room until after Easter when we have family coming in town, and then we will continue with the changes. I purchased this rug from West Elm...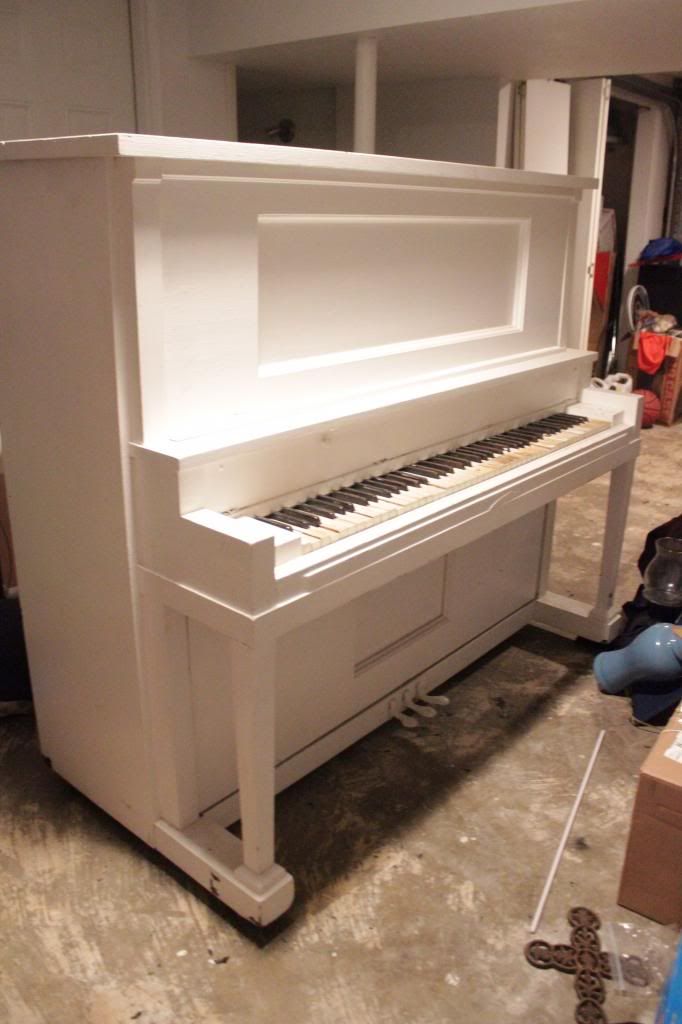 And if you follow me on Instagram, you've seen this piano that we are in the process of converting into Jeremy's desk...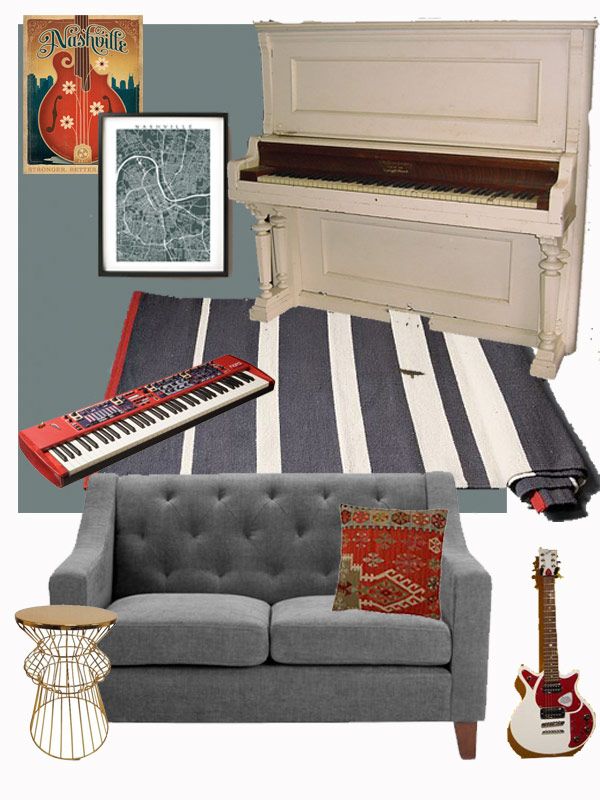 And with the red accents that will come in through his instruments and some pops of color, and hopefully the purchase of a love seat or settee, I think it will come together quite nicely. Here is a mood board I created.
I'm excited to give that bed a new place and make this room into something functional where we can easily go to demo songs and be creative!