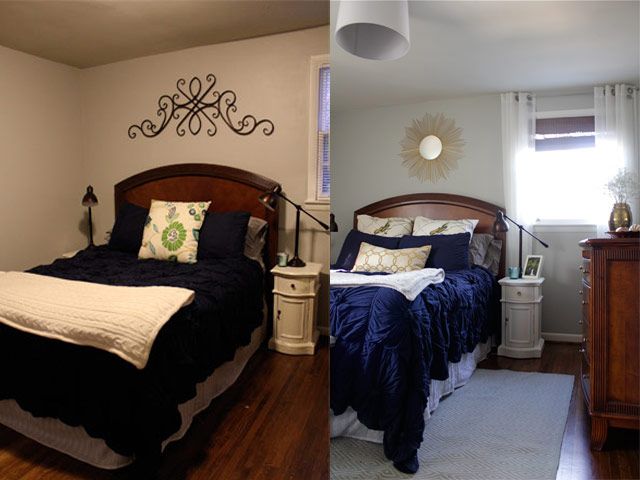 I showed you all my master bedroom reveal a couple of weeks ago, so I figured I would take a day to talk about some things I learned while updating the space. This wasn't a major overhaul with any architectural or structural changes to the room. This was just a matter of updating. Something anyone can do with any room to take it from A to B. Lots of things matter. Color scheme, accessories, paint color, etc. But here are a few places to start when you don't know where to start.
How can you take your room from boring to refined? Here are a few little tips.
1. Hang those curtains high and wide.
This makes me feel like I should be at a line dance, and instead of "swing your partner side to side," I click my boots and say "hang your curtains high and wide." I'm from Texas. Maybe that's why.
But have you seen this diagram?
Curtains make a big difference. In our room, I chose some simple white curtains from Home Goods for around $12 a panel. It's more difficult to find curtains at longer lengths (I think these are 95" panels), but Home Goods usually has some good neutral options. Then, I replaced the generic mini blinds with bamboo blinds from Home Depot. I had no idea what a big difference it would make (and I didn't get a good "before" photo of the windows), but wow! Floor to ceiling curtains and anything but mini blinds automatically make the room feel grander and more put together.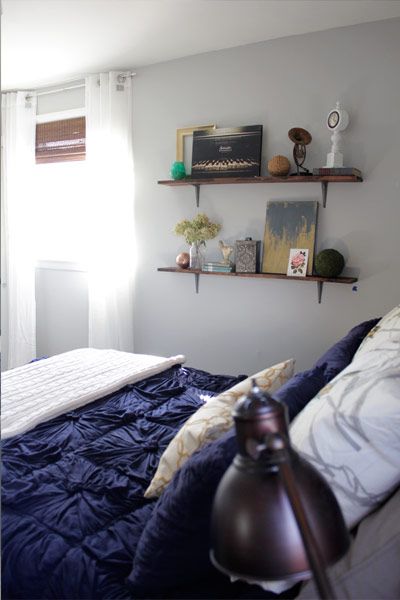 2. The Two Little Shelves
Bring life to walls with shelving instead of traditional art. It is a great way to draw attention, showcase curios, and combine art with functionality. The best part is that you can generally shop your house. I didn't buy anything new to fill these shelves! Some of my favorite items from the shelving: 1. Piano art. Many of my favorite local coffee shops in Nashville showcase local artists, and I spotted this gorgeous piece several years ago when Jeremy & I were still dating. I called the artist on display and ordered a custom mounting of the photograph as a birthday gift for my (then) boyfriend. It's really special! 2. Painted empty frame. Thrift store frame. Removed the glass. Spray painted gold. That's all. 3. Gold and blue canvas. I found this canvas in a stash of old art supplies and pulled out some spare paint I had on hand. I did this in about 10 minutes while talking on the phone. That's how easy it was. You could do it too. 4. Hydrangeas. These are dried hydrangeas that I clipped from our backyard last summer. I love how hydrangeas dry! They have brought me joy for months and months, and I have moved them around from room to room. 5. Peony art. This is the front of our RSVP card from our wedding. The peony was the theme flower for our wedding, and my sweet best friend hand watercolored that flower as part of our stationery. I treasure it, and I love the pop of color it adds to the shelves. 6. Iron bird. Flea market find. 7. Books. One of my favorite decorating tips. Use old books in your color scheme. I have them all over the house.
3. Lighting Matters.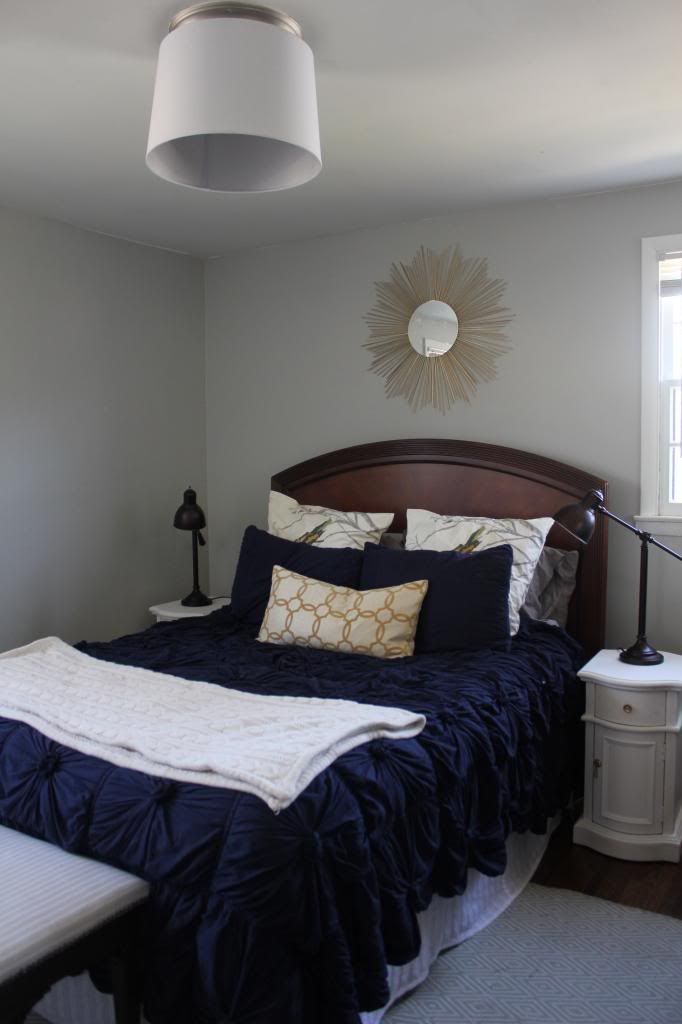 It is incredible what a $12 lamp shade did for our little room. Sometimes the light is one of the last things you think about when it's bland or outdated, but it makes a huge statement when it is updated. **This photo is pre-curtains and art on the walls, but it is a good showcase of the ceiling light.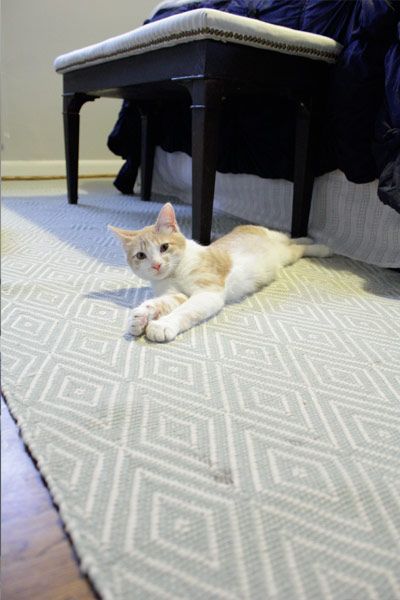 4. When in doubt, get a rug.
I lucked out with a gently used $320 Dash & Albert rug for $50 at a yard sale. Seriously, it was one of my favorite finds ever. I had no plans for a rug in our room, but once I placed it under the bed, I realized how much rugs matter. It grounds the room, brings everything together, and makes a subtle statement. That has been the case with every rug in our house. Hard to bite the bullet and spend the cash, but worth it. So worth it.
I also scored a West Elm rug for $50 a couple of weeks ago. Can't wait to show you where that is going!
So, let's recap. When you don't know how to breathe life into a room, here are a few ideas.
1. Curtains. Hang 'em high and wide. 2. Wall shelving in lieu of just art 3. Update your lighting. 4. Get a rug.
Done. And done.