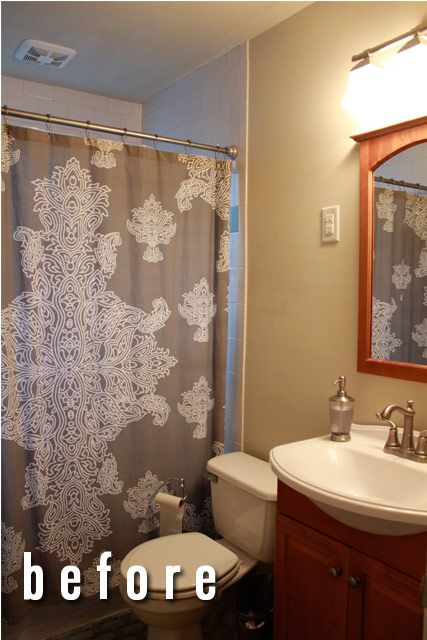 We are almost finished with Phase 1 of the main floor bathroom makeover. All that's left is to put a little more art on the walls and I think I will call it complete. Phase 2 will involve some new tile, but we are going to leave that as is for now. Just as a reminder, we started here. Just a basic boring tan on the walls and nothing more. I have since painted and frosted the shower window. Last week we finished up a couple more character adding touches.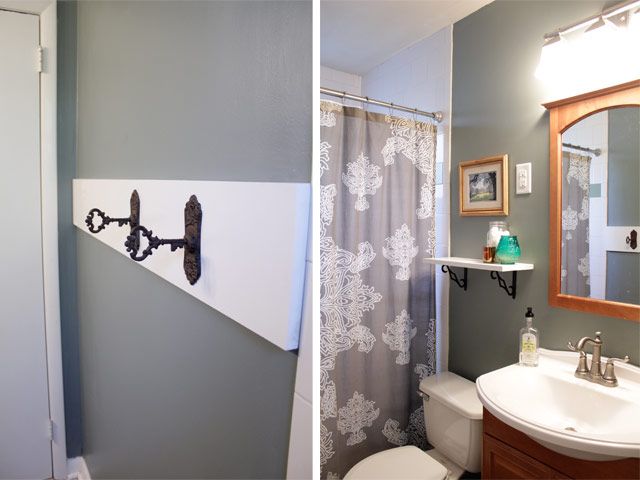 Here is where we are now. It is already looking so much more complete!
Guess how much money I have spent? $40. That's right, folks. Just 40 smackaroos for a facelift on this tired bathroom. Let's break it down: - 1"x8"x6' board for the shelf and the towel wall board: $8 - Paint for the walls: $10 (They messed up my first order and gave me an entire gallon of bathroom ready paint for $10. I've barely used a quarter of it.). - Shelf supports: $10 total ($5 a pop at Lowe's). - Antique Key Towel Hooks: $10. ($5 each at the Flea Market). - Picture frame: $2 at Goodwill. I already had the art. - White paint and primer for the boards: something I keep around the house anyway.
I purchased a 6 foot 1"x8" board at Lowes and had them cut it down in store into one piece for the back wall and one piece for the shelf. I lucked out and 6' was the perfect size for both.
I primed both with Zinnser primer and then painted several coats of plain jane white paint.
For the shelf, I purchased a couple of decorative shelf brackets, and Jeremy installed it on the wall above the toilet. Simple as that. The art above the shelf is a beautiful print of a painting by my grandfather (G-daddy, as we call him). He is an incredible artist, and this is one of two prints I have from his collection. They are so special to me! The other is on our gallery wall. For the towel rack, I was inspired by these amazing antique key hooks. Aren't they gorgeous? I immediately knew that a wood plank on the walls and a couple of hooks would bring both functionality and style to the room. There used to be a standard bar towel rack on the wall, but I just don't like those. We have been hanging our towels to dry on the back of the door, but they don't dry well there.
So after painting the plank (I decided it would be easier to paint before mounting to the wall, and I'm glad I did), Jeremy used a stud finder to mark the studs in the wall and measured things out so that everything would be straight and symmetrical and awesome. Then we used standard drywall screws to attach it to the wall. I decided I wanted something heavier duty than nails for such a large board.
Next I used some painter's caulk from Ace Hardware to fill in the gap at the top of the board similar to the way that John & Sherry over at Young House Love show in this video about their board and batten install. I also used standard spackle to cover up the screws as best as I could and went over the board with one final coat of paint and some Miniwax Polycrilic (DON'T use oil based polyurethane on white paint. I repeat. Don't do it.)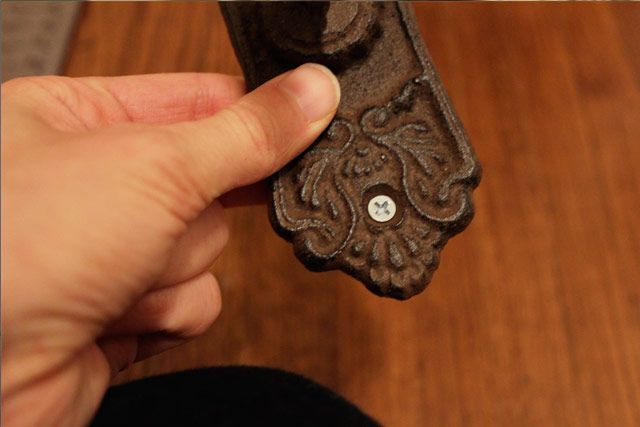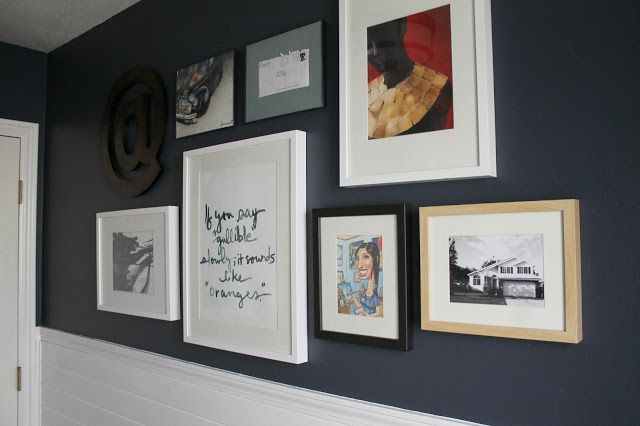 Finally, we installed the hooks. They didn't come with matching screws, and standard silver screws would have been a bit of an eye sore, so I used some leftover Oil Rubbed Bronze spray paint to coat the tops of the screws. And there you have it! I'm thinking of doing a gallery wall above the towel rack. Something like this? What do you think?