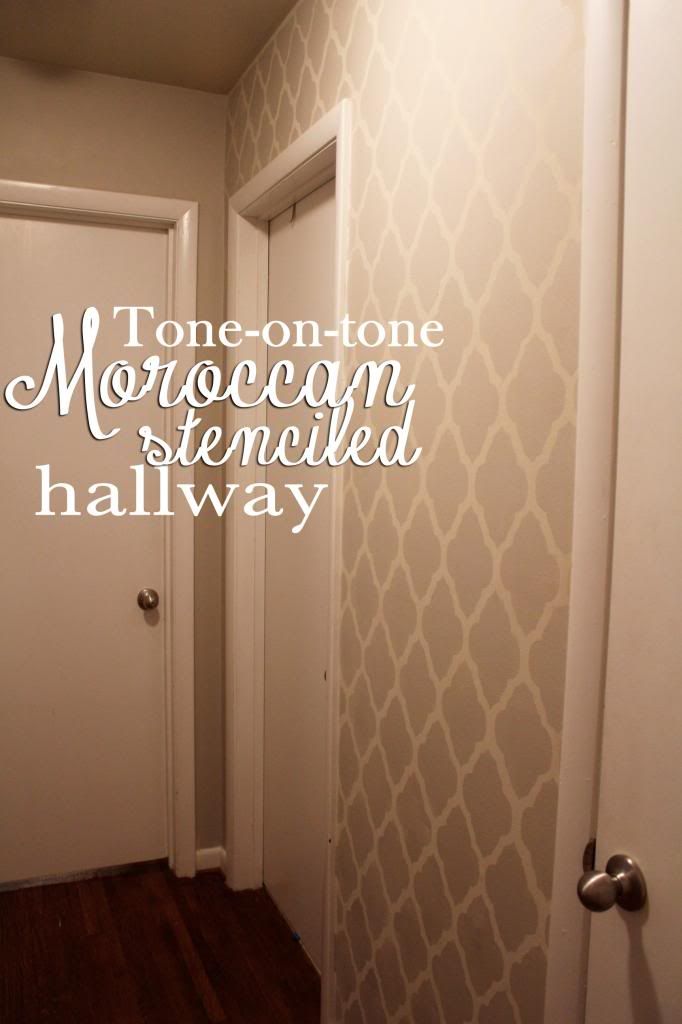 Most 1950s ranch style houses were built without entryways. You simply walk into the living room. In our case, you walk into the living room and look straight ahead into a hallway. I really wanted to spruce up the first thing you see upon entering the house by doing something creative with the hallway.
I had ordered the Large Marrakesh Trellis Moroccan Stencil from Royal Design Studio not knowing exactly where I would use it, and I thought this would be the perfect opportunity. The hallway was already a neutral tan color (that the whole house was originally painted when we moved in), and I thought I could use the gray paint (Benjamin Moore Revere Pewter) from the living room on top for a tone-on-tone look that visually tied the hallway with the living room.
Before, it was all like "Welcome to our house. The living room is pretty nice, but don't look much further because there isn't anything interesting over there." And now it's like, "Welcome to our house. You may like what you see in the living room, but if you look straight ahead you'll notice that the party continues into the hallway" -- in a very subtle, unassuming way.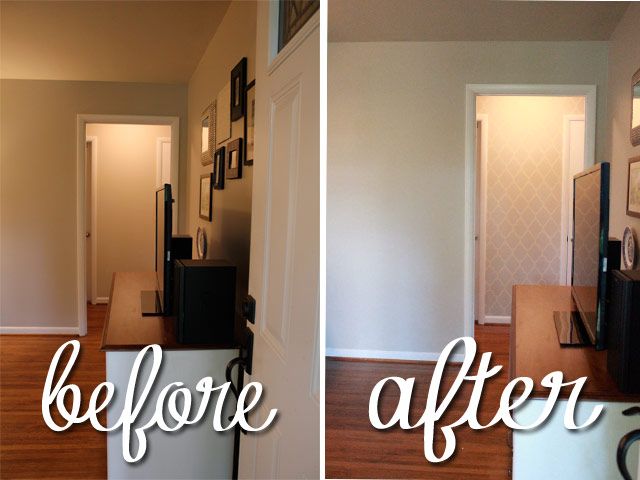 Word to the wise: this was not a simple project. It took me three days of on-and-off work and probably around 7-10 hours if you include wait time while letting paint to dry. And in the words of the old adage, "It's like watching paint dry" -- that means boring, y'all.
But I think the results were well worth the effort.
I'm not going to go into a full on tutorial on stenciling because if you order a stencil, they will provide basic instructions, but I will share a few tips and tricks I learned by trial-and-error along the way.
So, although our hallway has a pretty small wall surface area (which I thought would work to my advantage), the problem is that there are SO MANY DOORWAYS to work around. Six doorways. That's a lot for such a small space. But that's what hallways are for right?
So to save myself some heartache, I decided to paint the ends of the hallway solid gray because the space around the doorways was so small which I knew would be difficult to stencil.
So, first I taped everything off. This is very important. Without the tape, I would have had quite the mess on my hands. This picture doesn't show the ceiling tape wrapping all the way around, but I added that later.
Tip #1: Start from the top. On the first wall that I did, I started from the bottom, and when I got to the top it was very difficult to make a clean line along the edge because the stencil didn't line up correctly. It's much easier to maneuver around the baseboards than along the ceiling line.
So the first time I awkwardly crushed the ceiling edger up on the corner because I started from the bottom ....
But the next time I started from the top and it made life easier.
Tip #2: Use a foam roller.
If I had tried to do this whole project with a stencil brush, I would still be painting the first wall. Use a foam roller, but here's the key! Roll the roller over paper towels a few times to ensure that all excess paint is off and to prevent the paint from running behind the stencil and messing up your clean lines.
Tip #4: A fan may come in handy.
You want to make sure that the paint is mostly dry before you move the stencil to the next spot. Since you will be painting such a thin layer, it should dry quickly, but I also jimmy rigged a bit of a quick dry system.
Tip #5: Edges are tough. Be patient.
Excuse the blurriness of the picture below. I simply want to illustrate that edges are tough, but you just have to be creative and continue the consistent pattern.
Tip #6: Don't do a hallway.
Of course, I did. And it looks awesome. And I think it was worth it, but man it would have been so much easier if I had started out with a flat wall that didn't have SIX doorways to work around.
Tip #7: Use a level, and check every once in a while to make sure you are lining up your stencil level so that you don't end up gradually creating a swooping pattern. Your stencil will come with marker lines on the plastic that help you to match up the edges of your stencil, but it is still easy to wind up with a crooked pattern.
Tip #8: Choose your colors wisely.
I read about one blogger who stenciled with a dark brown on a white background, and she had to do THREE COATS OF PAINT. After the time and effort that one coat took, I can't even imagine. Because I chose a tone-on-tone look, I was easily able to do one coat, and then I simply touched up the paint later with a sponge brush in spots where it needed a second coat. Be careful of really contrasting colors or light colors on dark backgrounds.
Tip #9: Choose a simple pattern.
Because the Moroccan pattern simply repeated over and over again, it made my job much easier than if I was working with a grandiose pattern that had lots of variety.
Tip #10: Royal Design Studio is great. If you are looking to order a stencil, check them out first. They have such a wide variety of options, and my stencil came with a bonus stencil, a stencil for the ceilings and baseboards, and great instructions on how to use it. It is also very well designed to make the stenciling process easier.
So, that's a wrap.
And here is one more before and after and a close-up to show off the work.