You have seen the evolution of our banquette, so you've also seen our lovely rustic/industrial table from World Market. The only thing we needed to finish off the set were three chairs. In my dream world, I pictured tufted upholstered dining chairs, but you can barely find them for less than $150 a chair which translates to $450+ for just three chairs which is way out of the budget we set.
I have recently fallen in love with mid-century modern style furniture. The vintage feel, the clean lines, and the simplicity make me drool. I thought a mid-century teak dining chair set could be the perfect fit for our little nook.
Teak is an expensive wood, and I found prices ranging from $100-$400 per chair. This did not solve my problem.
Then the stars collided and the heavens opened up and shone a light on my little Craigslist app. A set of 4 Teak Mid-Century Style Dining Chairs AND small table on Craigslist for $75 TOTAL. I sent an email and asked if she would take $50 for the chairs and leave out the table. She said yes. SOLD.
That's right, my friends. $12.50 a pop for the exact style of chair I had been hoping to get. All they needed was a little TLC.
Goals: - Stain the wood darker to match the table. - Recover the seat with a simple gray fabric and install new foam for the cushion.
1. Stain the Wood Darker to Match the Table
Wood conditioner makes a huge difference.
I wanted to darken the wood just a little bit, so I used a dark walnut stain over the existing color. After sanding with 100 grit to remove the varnish and then 220 grit to smooth it out, I applied the stain, and it fell into the crevices and looked pretty uneven. I like the rustic look but wanted to preserve the smoothness of the teak. On the remaining three chairs, I used wood conditioner before stain, and it made a huge difference.
The one on the left is with wood conditioner, the one on the right is without.
The Dark Walnut stain added just the right amount of dark color to make the wood look more cohesive with the table.
Finally, I sealed everything with a gloss polyurethane, thought it was too shiny, and sanded everything down with 220 grit again before calling them finished.
2. Recover the seats
The original upholstery job was worse than I thought. I started with this rather tacky, very poorly upholstered blue vinyl fabric. I figured I would just remove it and move on.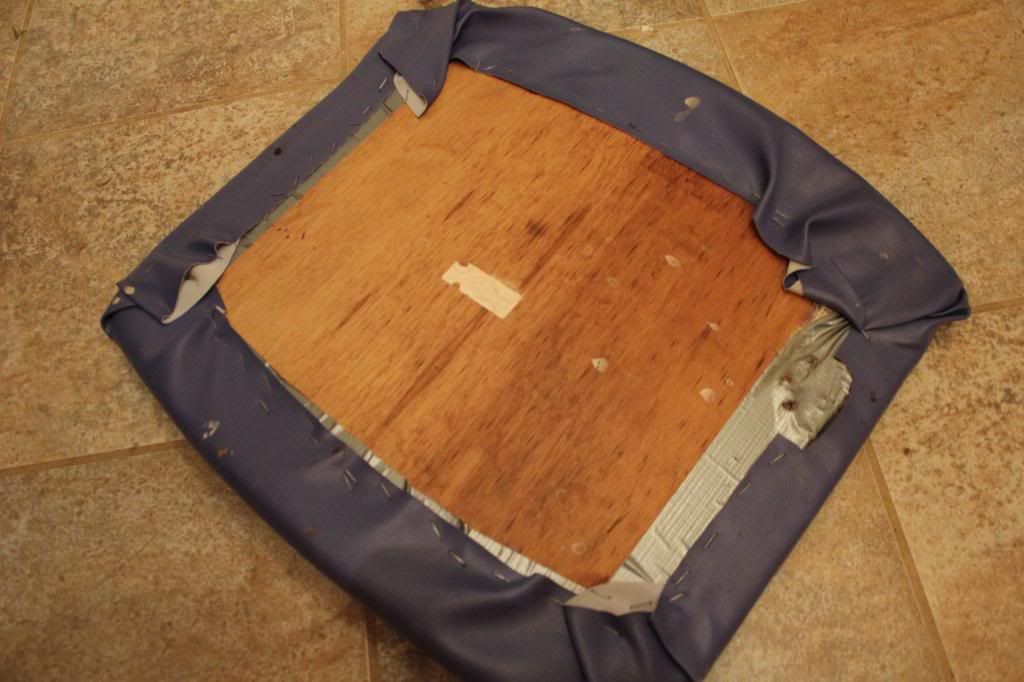 Then I found this.
Then I found this.
Then I found this.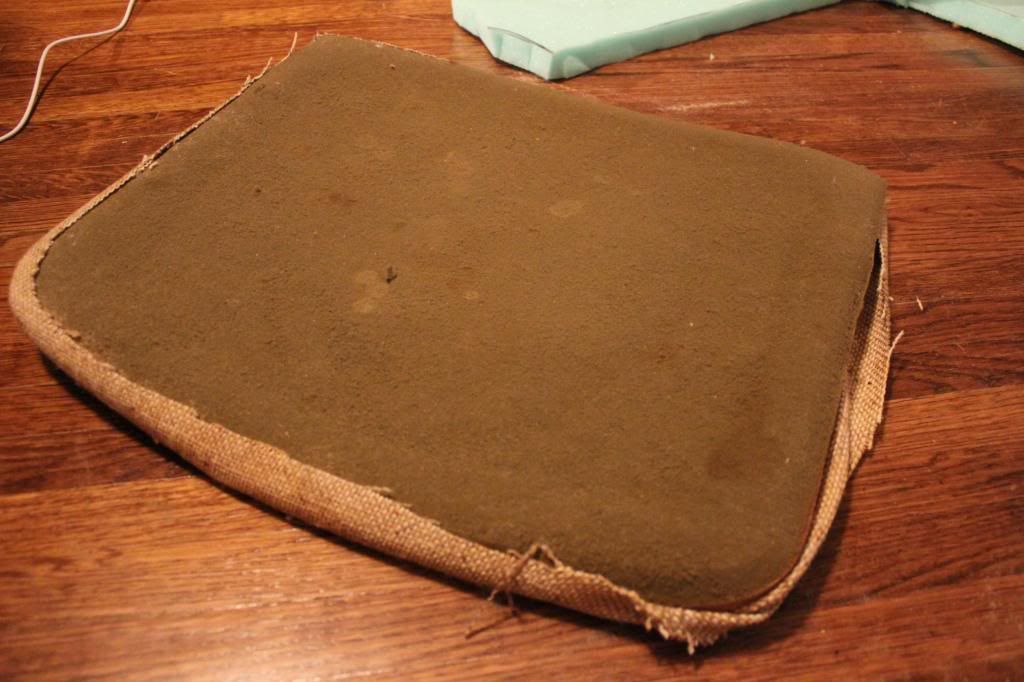 It was like a really gross onion. (You know...layers. Shrek, anyone?)
I used my tried and true method of small flat head screwdriver + needle nosed pliers (see my first upholstery job here) to remove the staples and original fabrics. Then I pulled up the original stained, gross foam. I had to use a knife to scrape some of it off the wood of the seat.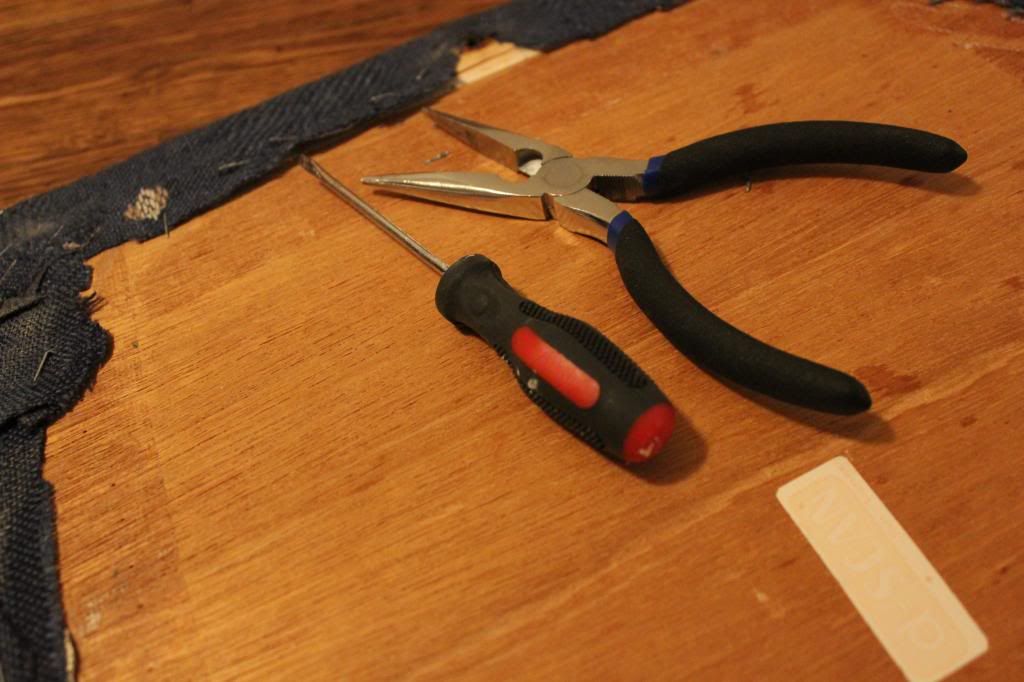 I purchased 2 yards of 1" foam from Joann Fabrics during their 50% off foam sale and cut it to fit each seat.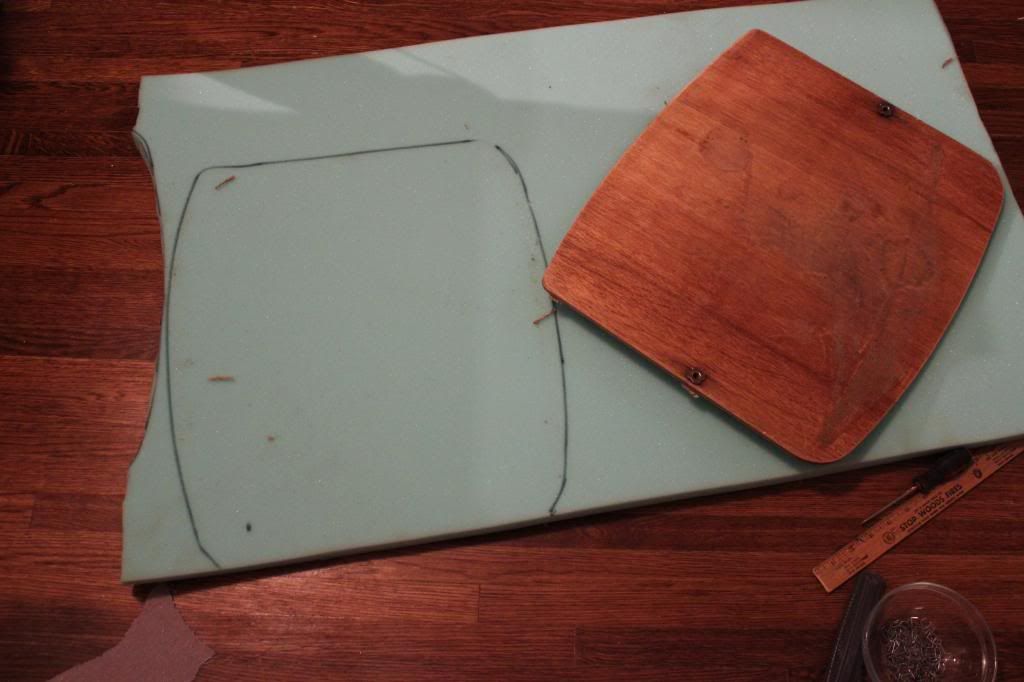 Then I covered it in this lovely, sturdy, textured gray fabric. I was sure to mark where the screw holes were with a sharpie and then I cut the fabric around them once I was finished stapling.
VOILA!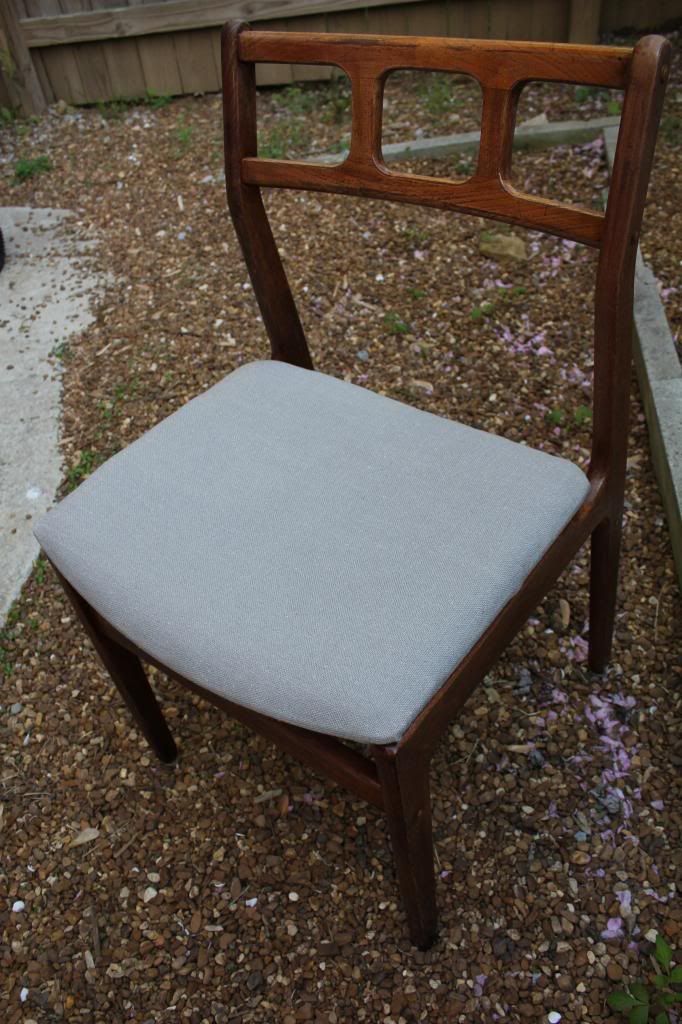 Put everything back together and presto--the perfect, small scale chairs that add character without taking away from the statement of the banquette and industrial table. The mid century style also helps to add a touch of modern to our space.
Here is a rough price breakdown: 4 Chairs on Craigslist: $50 1.5 yards of fabric from The Fabric House: $17 2 yards of 1" foam from Joann Fabrics (50% off): $16 Miniwax Polyurethane: already owned Miniwax Dark Walnut Stain: already owned Sandpaper: $4 Wood Conditioner: $13 Foam brushes: $3
Grand Total: $103 ($25.75 per chair)
My budget for 3 chairs was $100. I got 4 out of the deal (one is going to be a desk chair in the office).
Just to make myself feel better, here is a set of 4 Vintage Danish Mid-Century Chairs on Etsy for $1,650. I'm not sure that mine are actually vintage, but I think a $1,547 savings is pretty good.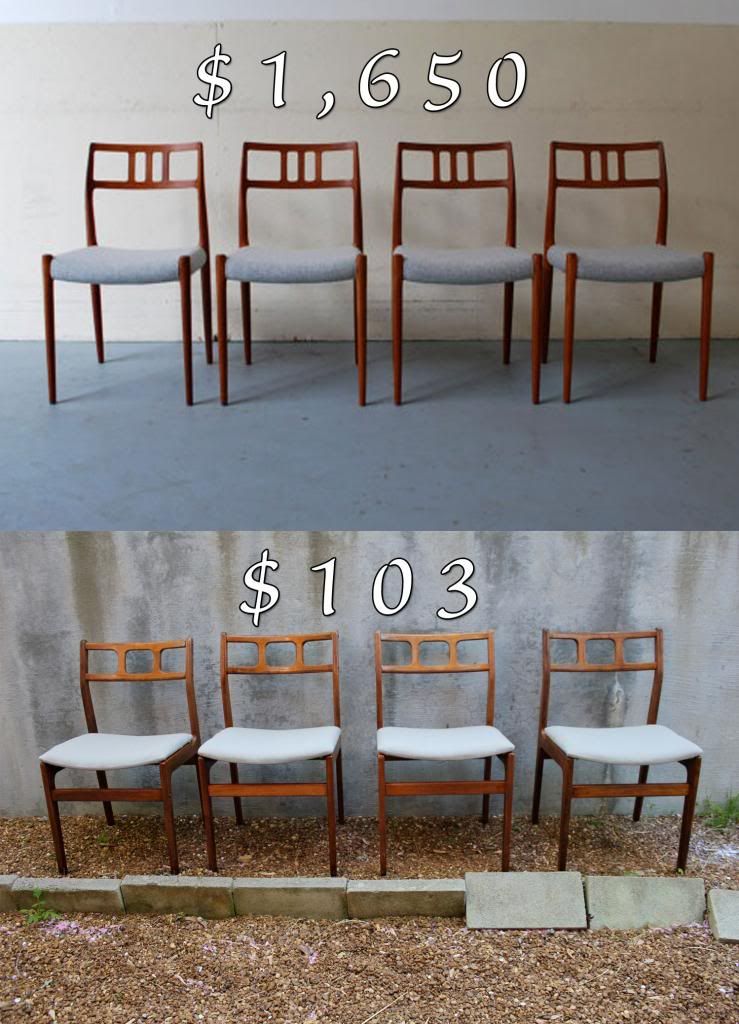 And just one more picture for grins.
Dinner party, anyone?