One of our motivations for getting a house was to be able to host people and bring friends and family into our home. We have started things off right with Jeremy's family coming in town the week after we moved, and a bachelor party at our pad two weeks after (I escaped for that one). The basement is nowhere near finished, (It's only been two and a half weeks; give me a break!) but I thought I would post some updates of where we are currently. Basement Main Space
Before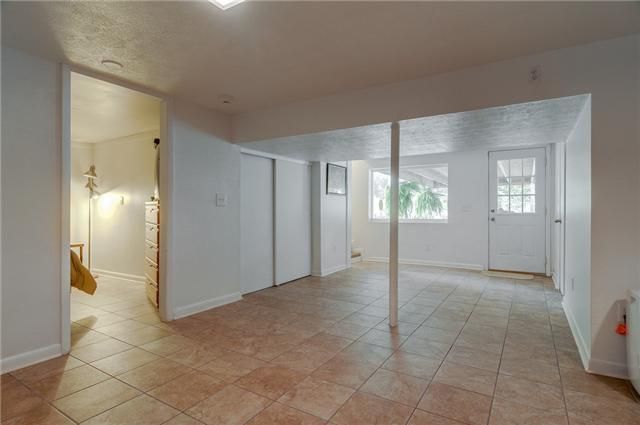 Progress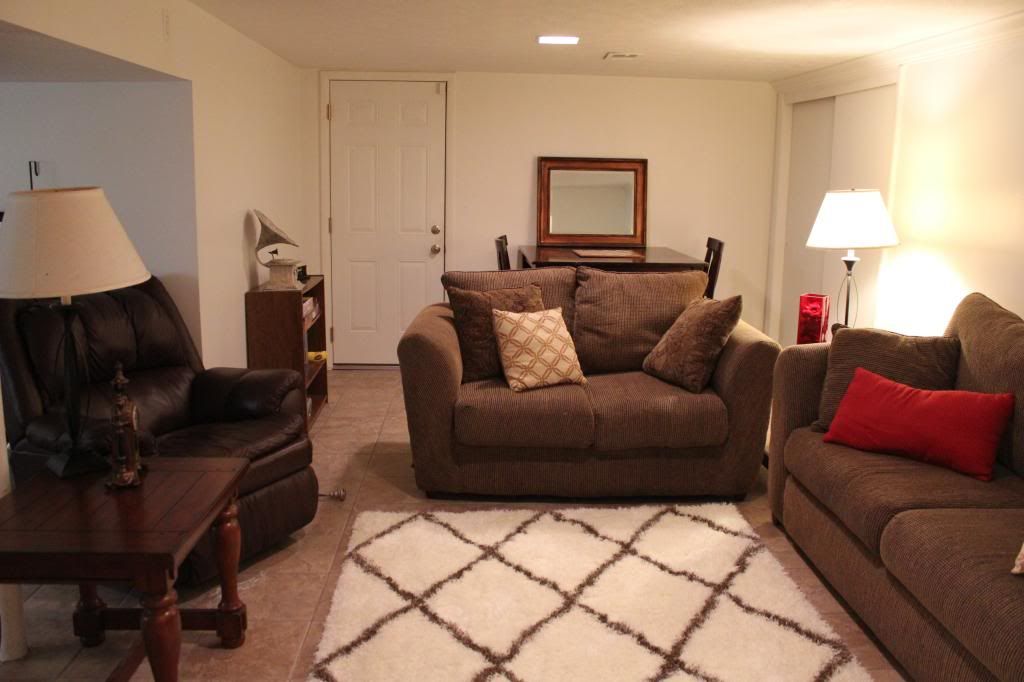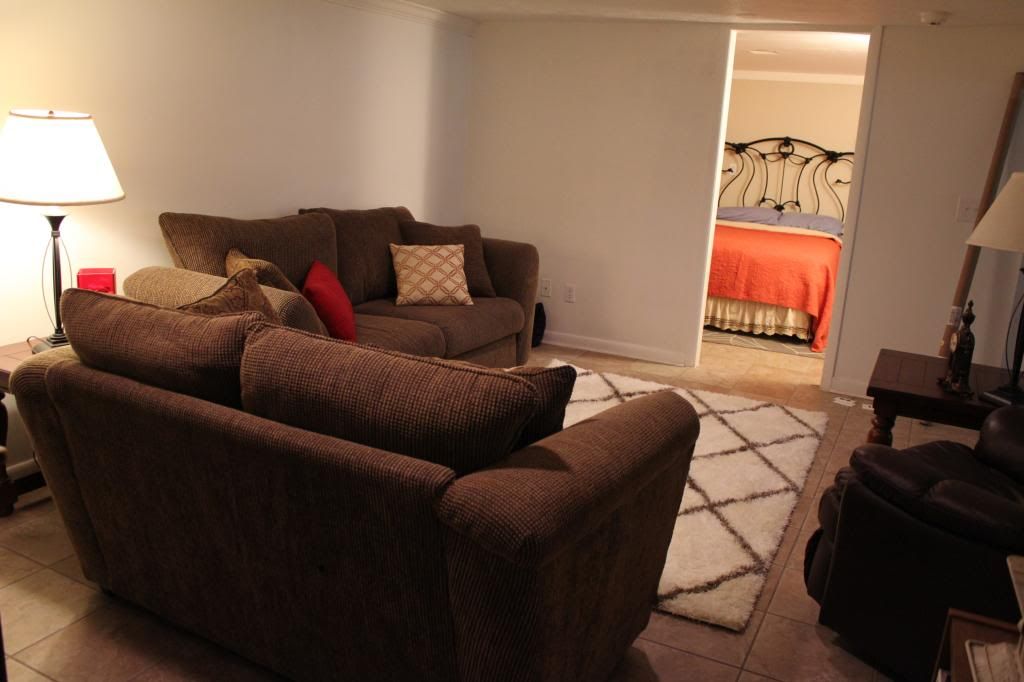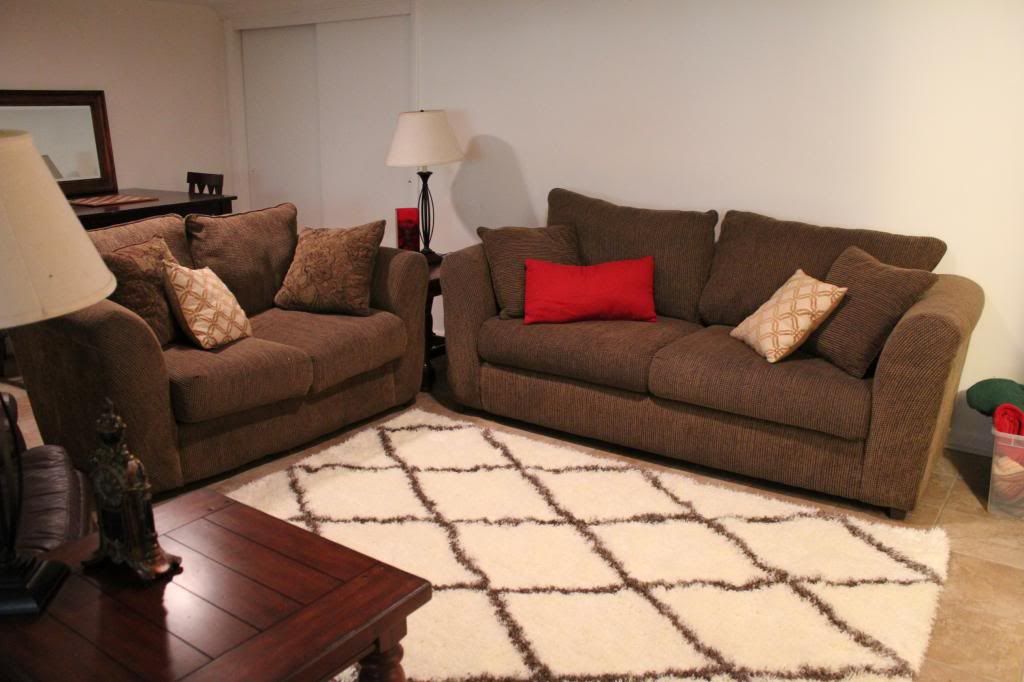 Things we've done: - Move our furniture into the space - Purchase a plush shag rug to warm up the tile - Create two distinct areas in the long space. One for the table and one for seating.
Things we want to accomplish over time (Rome wasn't built in a day): - Purchase a TV for the "man cave" - Add some more colorful accents and accessories - Maybe do a board and batten wall along the back? - Purchase an electric fireplace to act as a space heater in the winter and make it feel more cozy. - Investigate and fix the low hanging ceiling in the middle of the room - Find a smaller scale end table for next to the recliner and some sort of coffee table - Add some wall art above the couch (I'm thinking something with maps). - Make a "coffee bar" and refreshment station for guests on the wall between the recliner and the bathroom.
Basement Bedroom
Before
Progress
This room still has a long way to go. I wish we had a good picture after the sellers moved their furniture and we were left with only the terrible overhead lighting that makes the room feel like an asylum. You would have loved it. Maybe some people go for that lifeless, lackluster, "I would rather sleep outside with the squirrels than in this room" look, but it just wasn't my style.
Things we've done: - Painted the walls a warm color: Natural Linen by Benjamin Moore (color matched to Olympic One in Eggshell) - Spray painted my childhood bed frame black - Warmed up the space with coral and blue. (Curtains & Coverlet: TJ Maxx. Lamp: $3.50 from a thrift store. Sheets: hand me down from my sister's childhood Indian bedroom. I opted not to take the teepee and dream catchers although they would have added an ethnic vibe) - Temporarily accessorized the corner shelf that we brought from our apartment. - Warmed up the floor with a craigslisted Ikea rug
Things that we still need to do: - Hem the curtains so they don't drag the floor - Hang some wall art - Paint the nightstand - Install a door on the bedroom (tiny detail) - Add some pillow shams & decorative pillows. I'm thinking some nice neutrals to balance out the bright coral and blue.
The bathroom still looks the same. I have visions of a moody paint color and board and batten halfway up the wall with rustic accents, but that room is pretty low on our priority list so get back to me next year!
For all of our out of town friends and family, we are making a place for you! You are welcome any time!
Lots of love,