Let me start by saying that I can't take credit for this project. This is all compliments of my handsome husband. We are both musicians, and one of the reasons I have been a little quieter on the blog-front is that I have been spending time writing and creating music. Jeremy is an audio engineer, and as I have been writing more songs, he has been anxious to create a space in our home to easily demo those songs and work on his production skills.
His first goal was to find a studio desk, and he had the idea to find an old piano and convert it. I absolutely love the way it turned out. So, basically, I am the messenger because all this is his idea and execution!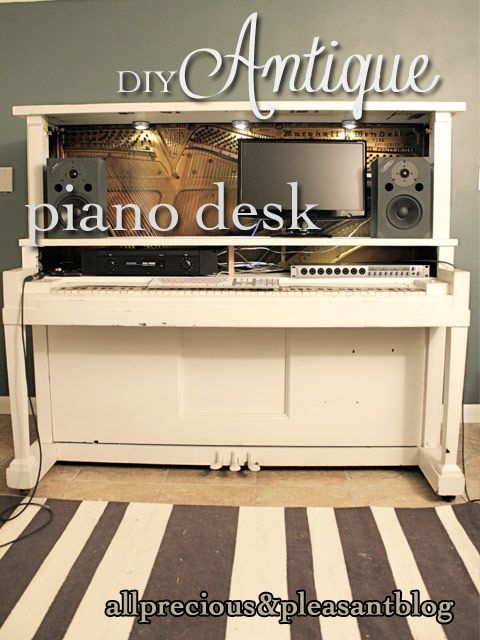 We found an antique upright piano on Craigslist for $30, and we recruited a few of Jeremy's friends to help us load it up into a trailer. Four guys could barely move it into the trailer. It is unreal how heavy they make these things.
So here are the materials we used for this conversion: - MDF - Plexiglass (from Lowe's. Cut to fit in store) - White paint - Screws
Simple list!
1. Gut the piano by removing the top front panel & hammers.
This was easier than we expected for the particular piano we have. The front panel removed easily, and taking out the hammers just took a little investigation and unscrewing a few knobs.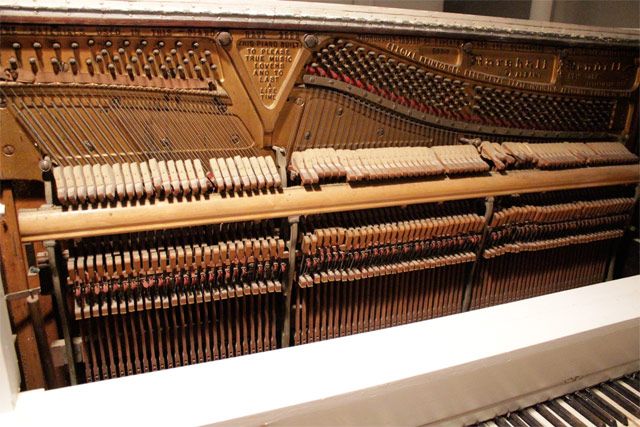 2. Cut MDF to fit, paint, and install as shelves.
Jeremy created two shelves. There is a top shelf for the computer monitor and a bottom shelf for some of the other audio gear and panels. Jeremy bought a big thick sheet of MDF and measured pieces to fit the two spots. I primed and painted them a basic white.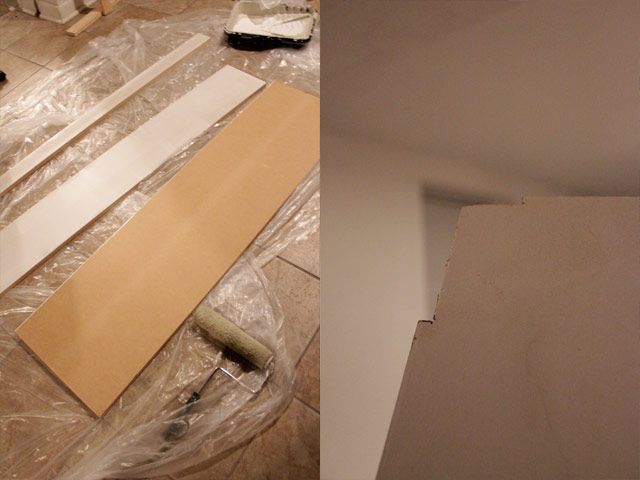 In between the two shelves, he cut a small piece of wood to act as a stabilizer and screwed it into both the top and bottom.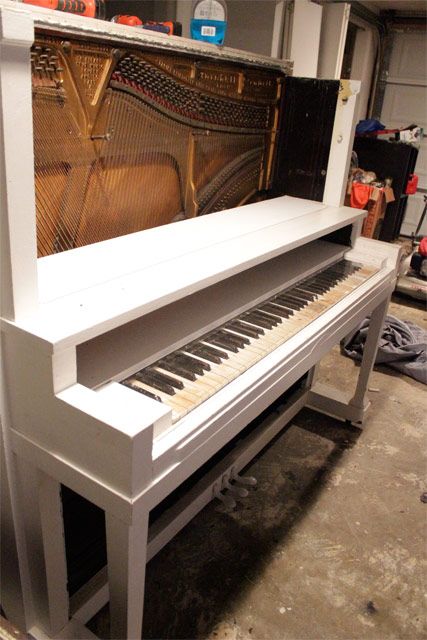 3. Install plexiglass over keys.
What is a piano without keys? We loved the vintage patina of the old and cracking keys. They aren't ideal for a functioning instrument, but they are great for a desk.
Jeremy had a sheet of plexiglass cut down in store to fit over the keys. Then he screwed into black keys on each end of the keyboard to hold it in place. This allows him to use the keys as another usable desk surface.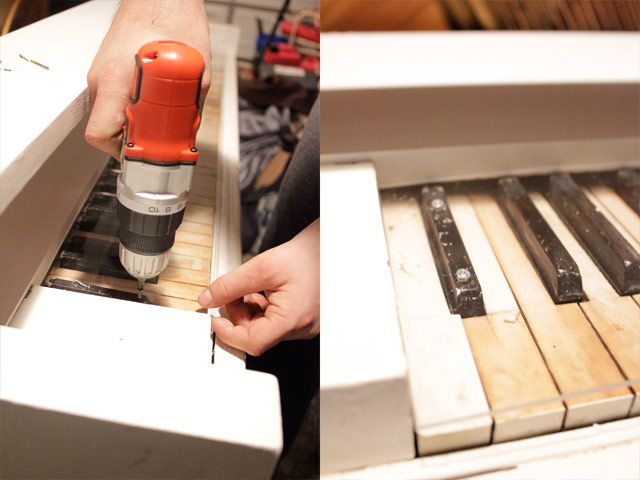 4. Dampen the strings
Rather than have the entire chamber of the piano reverberate with every sound, Jeremy dampened the strings by threading simple felt from Walmart through the strings below the main opening so it wouldn't be as visible. Unfortunately I don't have any photos of this part!
5. Install interior lighting.
For $6.99, Jeremy purchased this 3 pack of battery powered tap lights and installed them on the lid of the piano.
And that's it! It was much simpler than we anticipated. Jeremy rolled the piano from the garage to the studio room (thank goodness there were no stairs involved), and the room is starting to take shape!
A little before and after...
We may eventually try to paint some of the chipping parts of the piano, but for now I kinda love the worn look. It gives it character. Jeremy is planning on getting speaker stands and moving the speakers out of the desk. But for now, this has functioned quite well.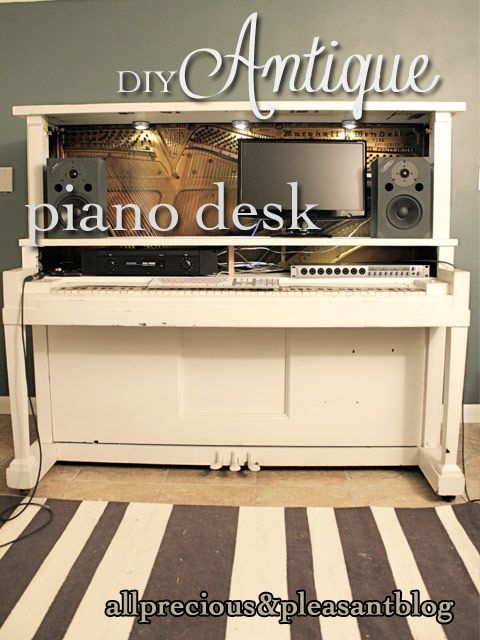 Excited to show you some changes to our new guest room soon!