I have mentioned that there isn't anything particularly spectacular about our kitchen. I am so grateful for it. It's spacious and has plenty of storage and the cabinets are sturdy and fairly new. The appliances work great. But it's not my style. I can live with it, quite happily, however. It helps me make food to nourish our family, and it can hold plenty of people.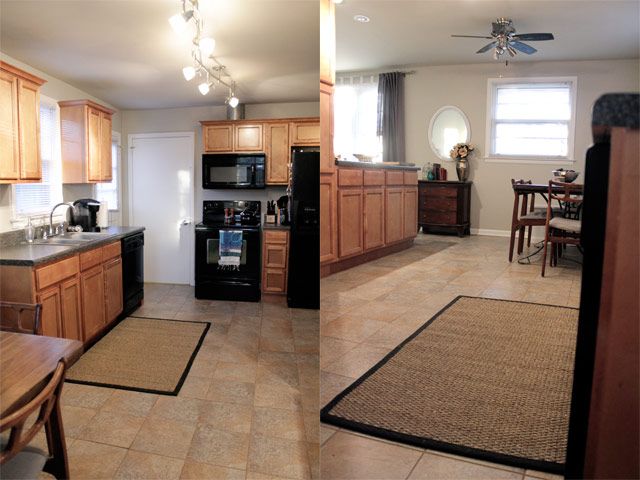 But I recently did a little update that is adding some "happy" to my space for less than $5.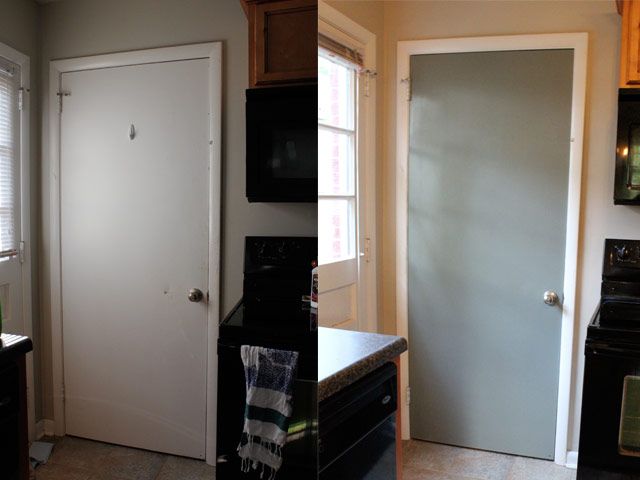 Back it up. I had been really inspired by colored pantry doors like this and this.
We don't have a pantry door, but we do have a basement door in our kitchen. But it looked like this.
That hole had been there since we moved in. I kept thinking we would have to get an entirely new door, but then I realized it wouldn't take that much work. So I picked up some wood filler, the only thing I had to buy, and patched that hole in no time.
Then I wiped down the trim with soap and water (amazing what that will do), and tried out three sample colors that I already had.
From top to bottom: Knoxville Gray (Benjamin Moore), Valley Hills (Valspar), Gibraltar (Sherwin Williams)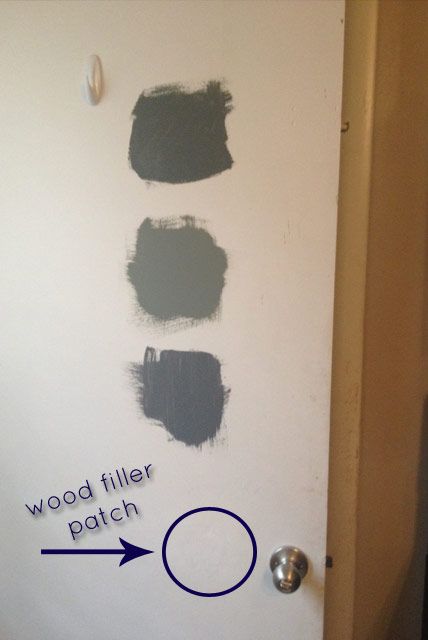 Then I chose the only color that I had enough paint left to use without buying anything new. The middle. Valley Hills (the same color as our upstairs bathroom).
I removed the doorknob, taped over the hinges, and used a foam roller brush to paint it down. It was really easy! And really low commitment. If I want to paint it back later or paint it a different color, it hardly cost me a thing!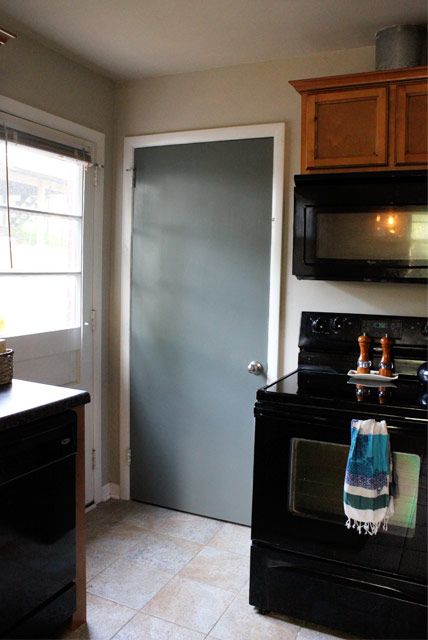 Have you painted any doors lately? I'm thinking about doing ALL the doors in our house a medium gray. I think it adds some sophistication and character. What do you think?