I was inspired to start this little blog space of my own because I began following other bloggers who were doing creative things in their homes. Some of my favorite bloggers have established something called the Pinterest Challenge. Find inspiration on Pinterest, attempt to try the project yourself, and live to tell about it. Check out those fabulous bloggers and their challenges--links are at the bottom of the post. Here is our first PINTEREST CHALLENGE! (**cue superhero music and imagine me and Jeremy running out in capes to tackle the challenge**).
For today's challenge, I actually commissioned the skills and brains of my favorite handyman, Jeremy Guyton Quarles.
I gave him the idea, but he did a lot of the leg work on this one.
We were inspired by this pin on Pinterest.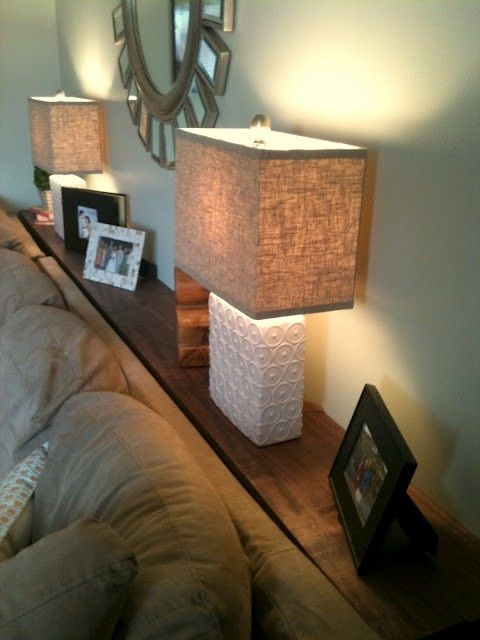 Our living room space is pretty tight, so we thought it made all the sense in the world to install a console table behind the couch rather than end tables on either side of the couch. It is the perfect place to have lamps for reading light and to set a drink down during the football game. It was really affordable and could be completed in an afternoon.
Jeremy found the most beaten up piece of wood at Lowe's since he knew he wanted it to look rustic and worn. It is 1" high x 12" wide x 6' long.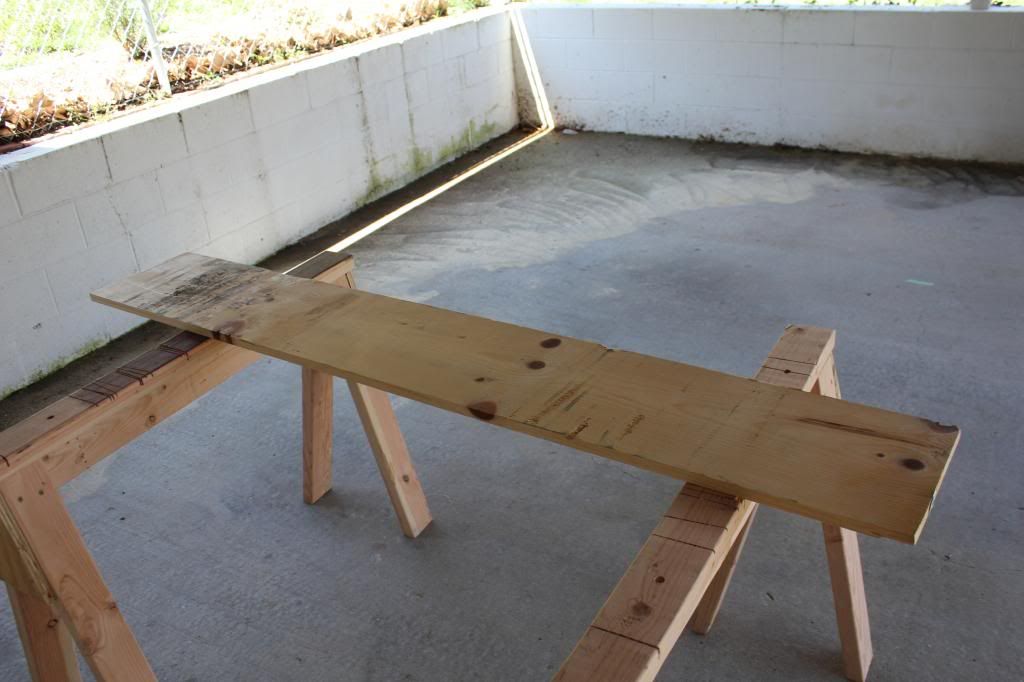 Then he attached three L-brackets to the wall along where he found the studs. He used some tips and tricks from Young House Love ( found here) to make the wood look even more worn. He sanded it down with 220 grit sandpaper and our handy orbital sander.
Next we applied Miniwax Stain in Red Mahogany. I applied and he wiped off immediately because the raw wood soaked up the color so quickly.
I finished it off with two coats of gloss polyurethane, we installed the board to the L-brackets, and voila! It turned out every bit as lovely as we hoped, and personally, I like it even more than the original Pinterest pin!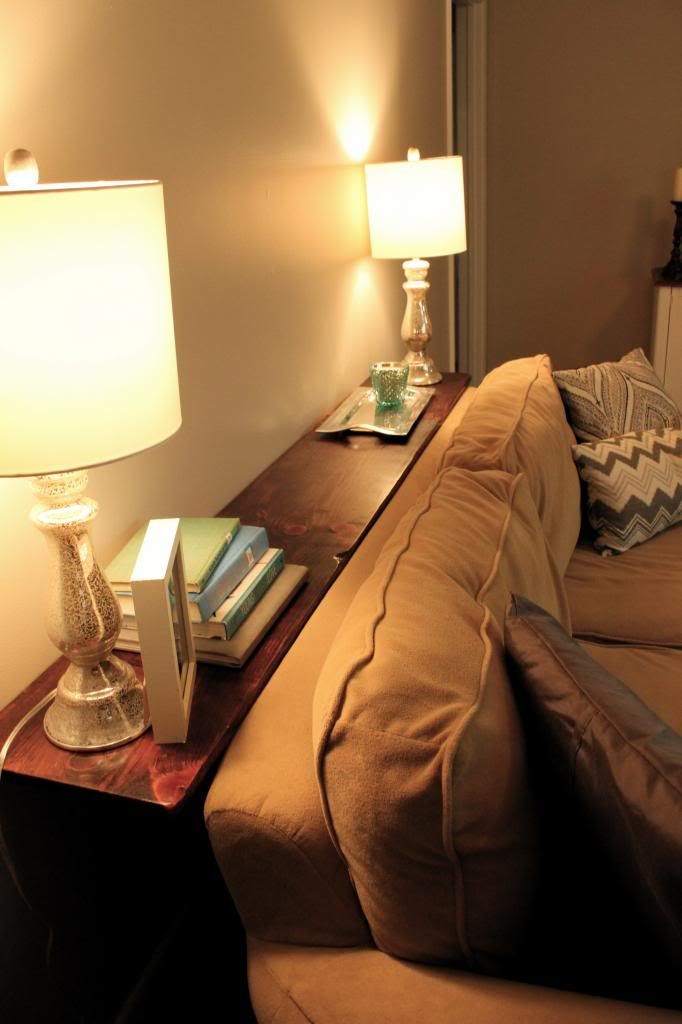 Two mercury glass lamps from Home Goods and some accessories made it feel even more personal.
I stacked our wedding album, our Young House Love book, and a couple of old books from when we cleaned out the church library on one end and put a simple silver tray and candle on the other end. Just imagine what it will look like with some art up on that wall--a project I will be tackling in the next couple of weeks.
Here is what it looks like underneath with the L-brackets for those of you who were trying to figure out what is going on under there.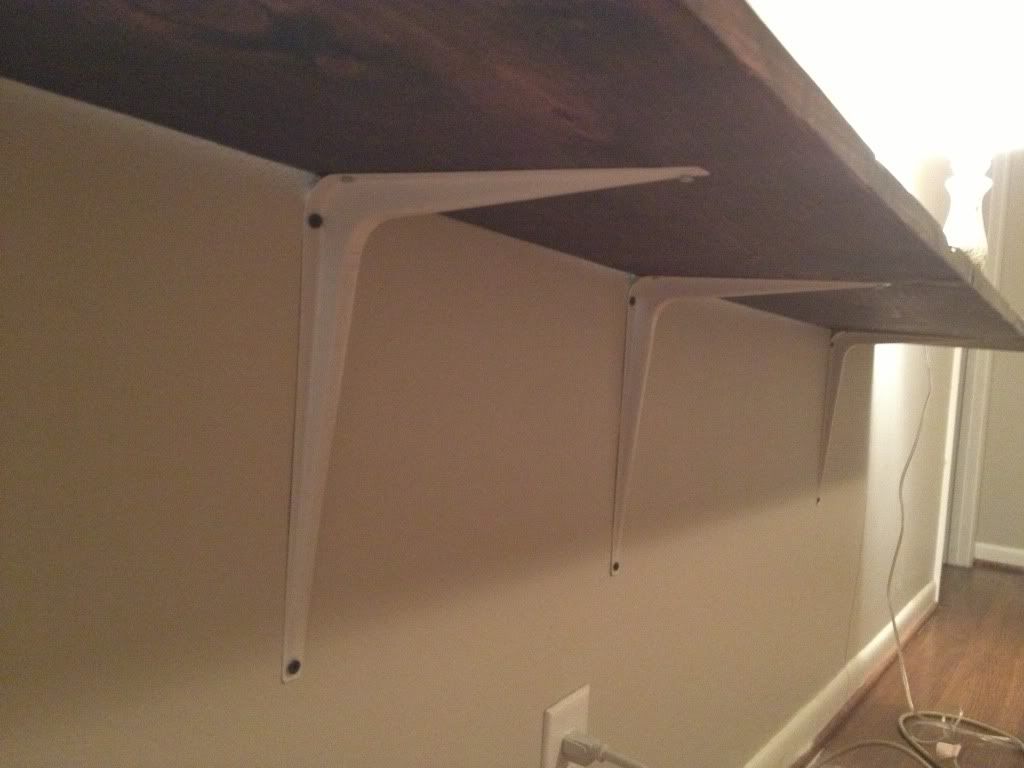 Also, Jeremy created a little video of his creation of the shelf. I love this guy. [youtube=http://www.youtube.com/watch?v=NPTCupQ6JJs&w=560&h=315] Cost Breakdown: 1"x12"x6' piece of wood from Lowes: $11 3 L-brackets: $9 Screws: $2 Stain: already owned Polyurethane: already owned
Total cost: $22
For a shelf that is both functional and stylish, I'd say that's pretty good. It definitely beats what it would have cost to purchase a console table or two side tables.
We would like to thank the Academy and Sherry, Katie, Emily & Renee for inspiring us to rise to the challenge.
UPDATE: Check out how this project is holding up after a year of use!