I've said it before, and I will say it again. Lighting matters.
It just does.
We are lights of the world. Light conquers darkness. Light makes us less afraid. Light reveals flaws.
And lighting does a lot for a room.
Here is where we were with the lighting in the breakfast nook.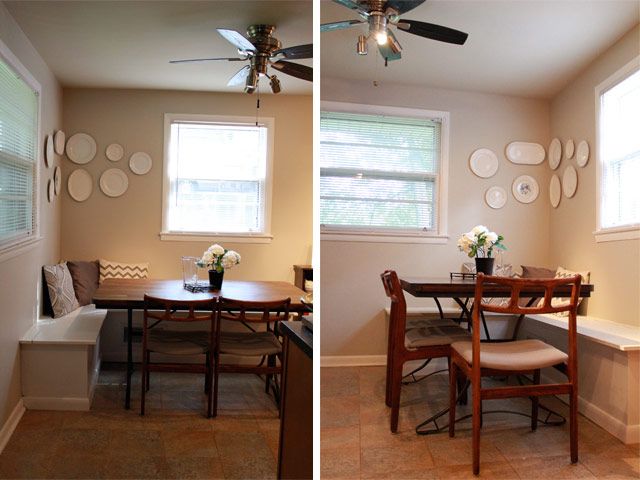 Not offensive. Just a simple and functional ceiling fan. But it wasn't centered over the table, and it definitely didn't look intentional. So, I wanted to find something to make a statement.
I fell in love with this light from a Young House Love house crash of Kristin at Restored Style. (In fact, I fell in love with pretty much everything about this house crash). The fixture is from Ballard Design, but it was just a little bit out of my price range.  Not outrageous, but I love to do things at a bargain.
Then, one day in my regular internet searching, I came across this light from World Market. And I did a little dance. At least my fingers did a little dance across the keys and pressed purchase. Because it was only $99. On sale for $70. With free shipping. And it was on backorder for just 2 weeks (I think it is on backorder until October now), but it came eventually and yesterday we hung it up.
I know, right?
I'm so happy with the way it transformed this area from just being a table and a banquette to more of a defined dining space. I also have some Roman Shades on order from JC Penney to replace the mini blinds on the surrounding windows.
Also, we just used a swag hook from Lowe's to drape the light directly over the kitchen table. It's a simple way to put a light in the right spot without having to move the electrical box.
While we're talking dining...there is another small change to the room. The barstools we had sitting at the peninsula were borrowed from a table and chair set that we are selling, so we needed to replace those barstools. I brainstormed all kinds of ways to make cheap barstools look higher end because I didn't want to spend much money, but then I stumbled across the perfect fit on Craigslist for $20 a piece.
Sometimes Craigslist is a royal pain, and things fall through and people are weird and you have to wait and search for ages, but sometimes you find the right thing for the right price and pick it up the next day from some nice people at a beautiful house in the country on a perfect Sunday evening with your husband before a nice date.
And that's what happened.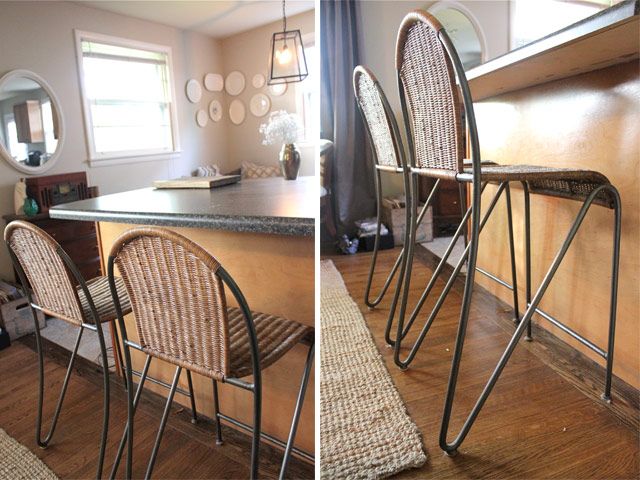 I like how the wicker fits in with several other design elements in our room. And I like the industrial look of the metal legs that ties into our industrial kitchen table. They are deceitfully heavy. I feel good about the quality and sturdiness.
Just a reminder with some terrible photos of where we started (tip: bad pictures make the reveal better)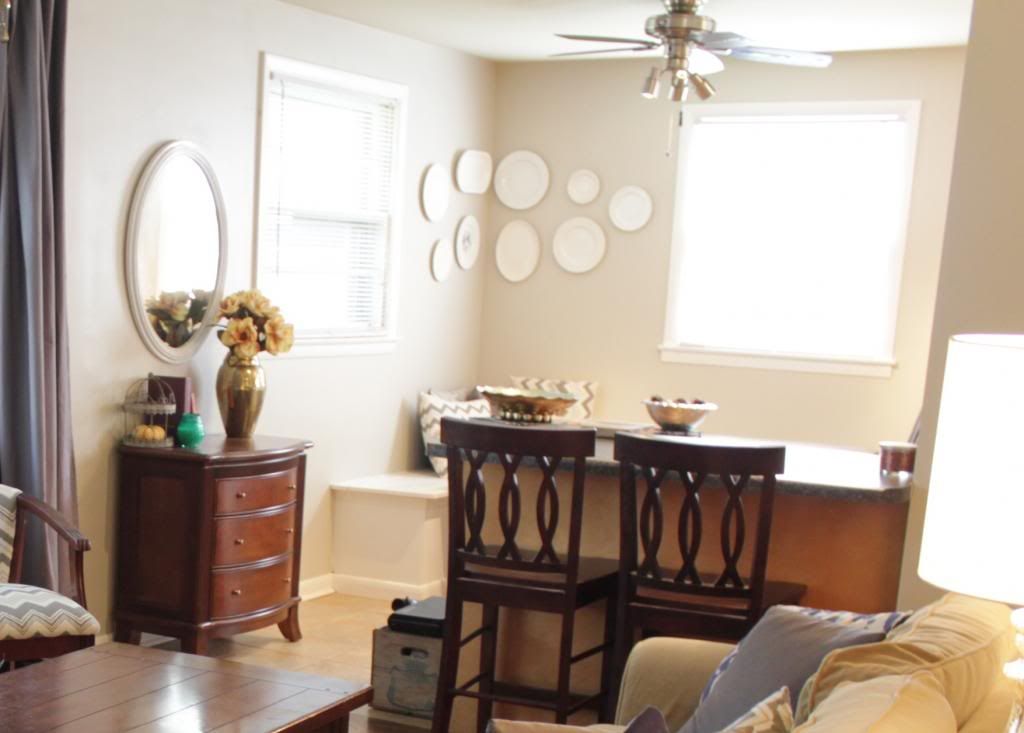 And what it looked like this morning... (Ignore the cleaning products on the kitchen table. Although I do recommend Mrs. Meyers and Seventh Generation. For the record)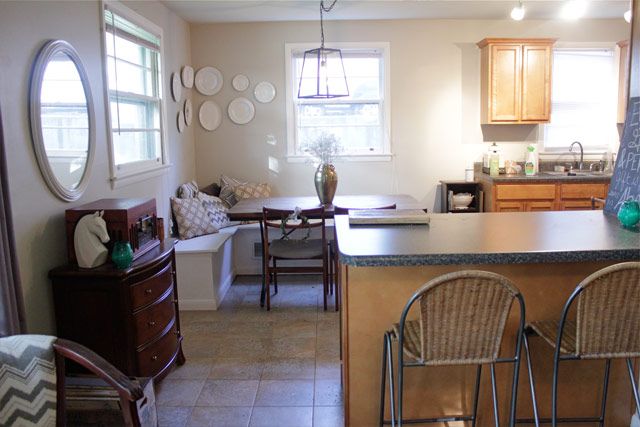 I'm not thrilled with the way the Morning Light was messing with my photo. I will try to replace with a better picture soon :-)
I love you all! And I can't wait to share Jeremy's antique piano turned desk later this week.