Over six months ago, we started deconstruction on our garage in preparation for a new Master suite. Today I am sharing the AFTER! Keep scrolling for some long awaited photos and the biggest reveal this blog has ever seen. This is the first time I have waited until the decorating was complete to share "after" photos, so the last you saw, the room was still a construction mess. Let's go on a little journey.... First of all, I will show you the walk out basement floorplan that I made when we first moved in to give you a feel for where the garage was situated in the house.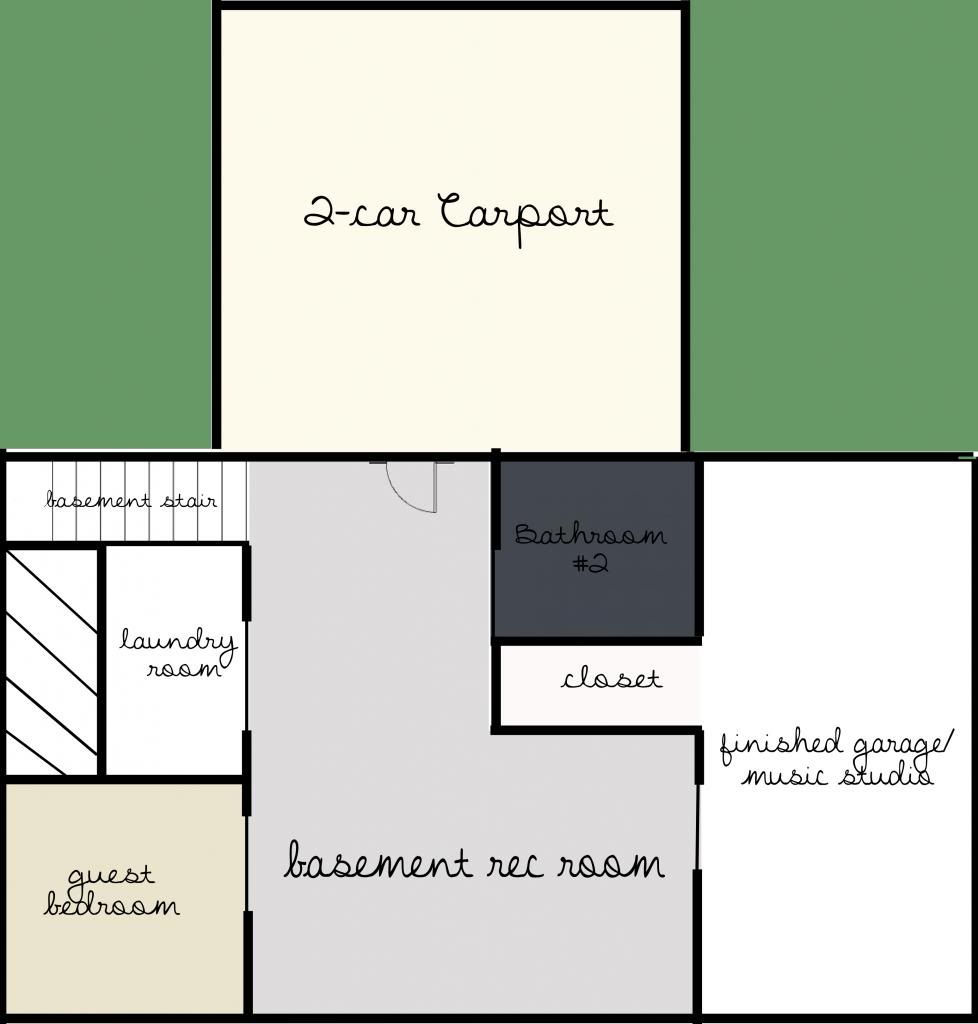 We have never once parked a car in the garage. We park in the carport, so the garage was just extra storage space. It looked like this for about a year and a half...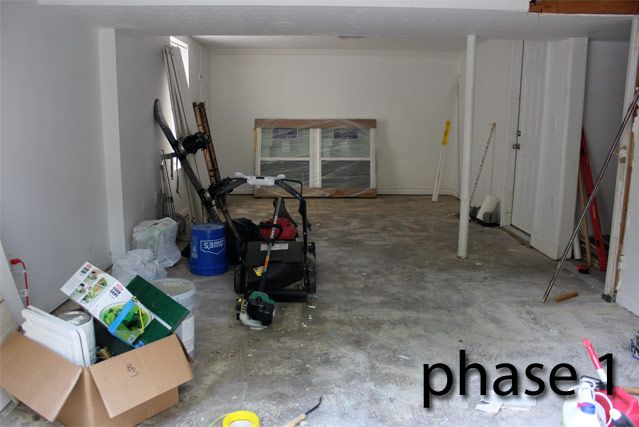 The construction was so poorly done to begin with that it was best to start from scratch, so we stripped it to studs and installed a window...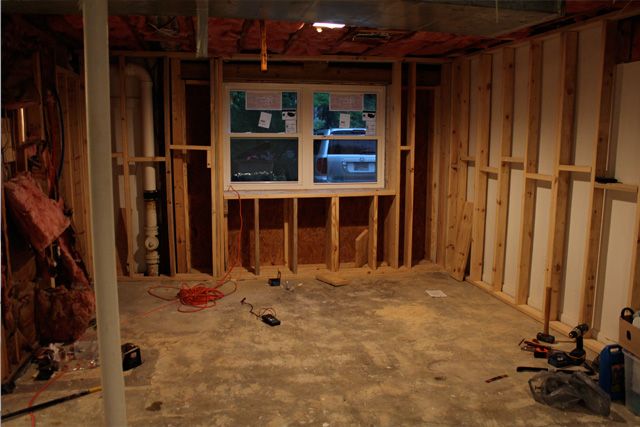 Then we installed drywall, installed recessed lighting, raised the height of the air duct, divided the room to build a closet, and spent months on construction. All the little things take time (especially when it was pretty much just my husband by himself and me when I could be useful). For more construction details, see here.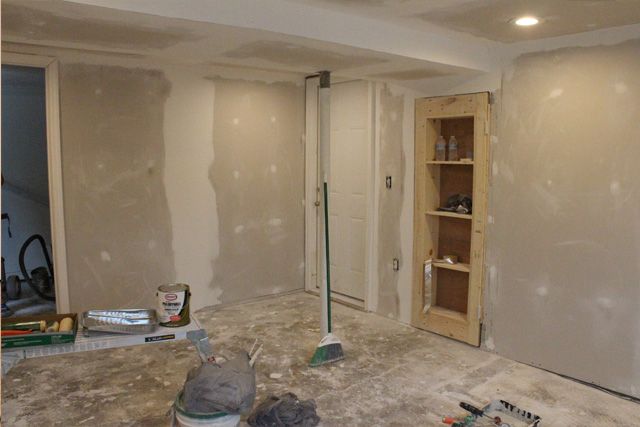 And when I last left you, it looked a little bit like this.
After lots of paint, accessories, DIY projects, and furniture shopping, it is now officially DONE. Drum roll please...
Tada!! I'm sure I will tweak things over time like adding throw pillows to the bed and such, but for now, I am calling it done. I wanted sophisticated neutral, I wanted it to feel like things had been collected over time, and I wanted the contrasts of light and dark and vintage and modern. I think it was accomplished!
This room was especially fun because we pretty much started from scratch on everything. We didn't reuse a single piece of furniture. Every other room in our house started with hand me down furniture. This one started with a blank slate. After two years of living in our home, I feel like I know better than ever what my personal style is...and this room embodies that well. We were still working with a definite budget and did a lot of DIY and bargain hunting, but I enjoy being creative with the confines of a budget.
You ready for the grand tour?
When you first walk in from the basement, you will see this.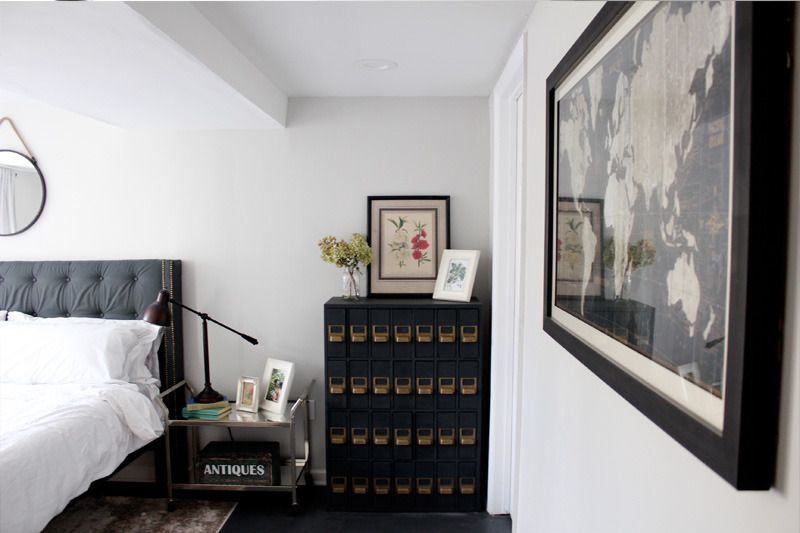 I painted the walls a very pale gray, and I wanted to highlight the contrast of dark and light neutrals everywhere. The white bedding against the charcoal headboard (which we made ourselves!!! Full tutorial to come...), the contrasting colors in the map on the wall, the dark floors with light walls, the gold against the gray on the card catalog, etc. I used creams and whites and tans and grays. I love coordination without being matchy matchy.
Now here is the view from the master closet (which I will show in a future post. It isn't quite ready for a closeup)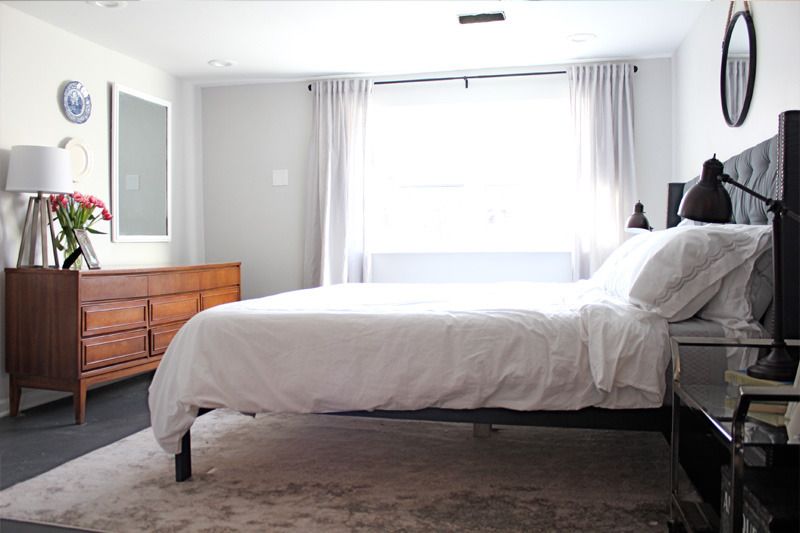 Once again, contrast. Vintage style rug against modern platform bed. Cool metals against warm woods and grays. Traditional plates hanging above mid century modern dresser. Also, notice that I worked hard to balance colors and shapes around the room. The round plates play off the round mirror opposite and the round lamp shade. They all stand in contrast with the sharp lines of more modern furniture. White lamp shade and mirror balance with the white bedding.
Now here is the view looking from the window.
To give you your bearings, the door on the left goes into the extra large walk in closet (seriously...it's like a room in there. It even has its own window. I will show more soon). The door on the right goes back into the basement den. There is a bathroom off of the den by the outside door. It would have been nice to connect it to the bedroom, but it would have required a lot more work and money, so we just walk around which doesn't bother us.
The column in the middle of the room used to be a metal pole, so we encased it in MDF and added trim to make it look like an architectural feature. And the dip in the ceiling used to be twice as low. The air ducts are housed up there, and Jeremy cut them and rerouted the pipes to raise the ceiling. Yes, my husband is a stud.
See that built in bookshelf next to the dresser? That is actually a door! Behind it is more storage space which is a complete disaster right now. Jeremy custom built the bookshelf to function as a door. Did I mention he is a stud?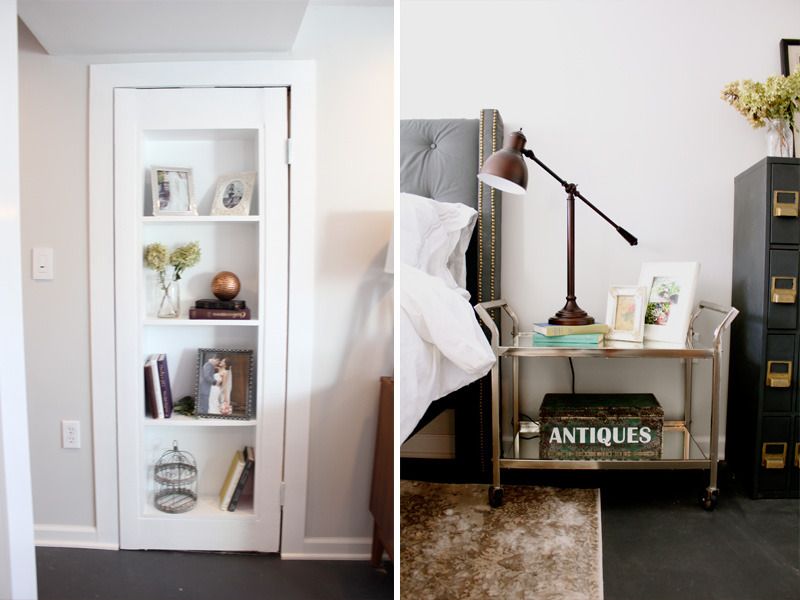 On the right above is the vintage bar cart that I converted to a nightstand. I picked it up at an antique store for $30 and had mirrors custom cut at the hardware store for the shelves for $12. I will do another post about that one soon.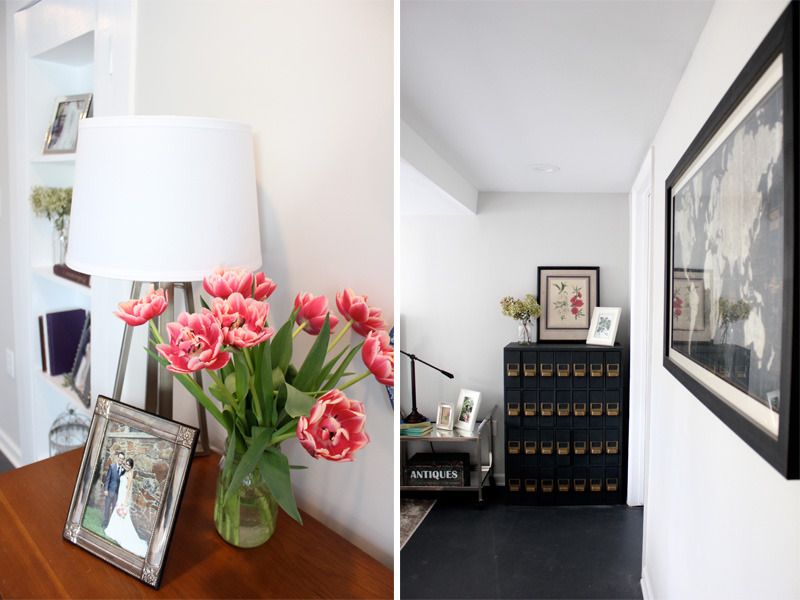 Now the bed...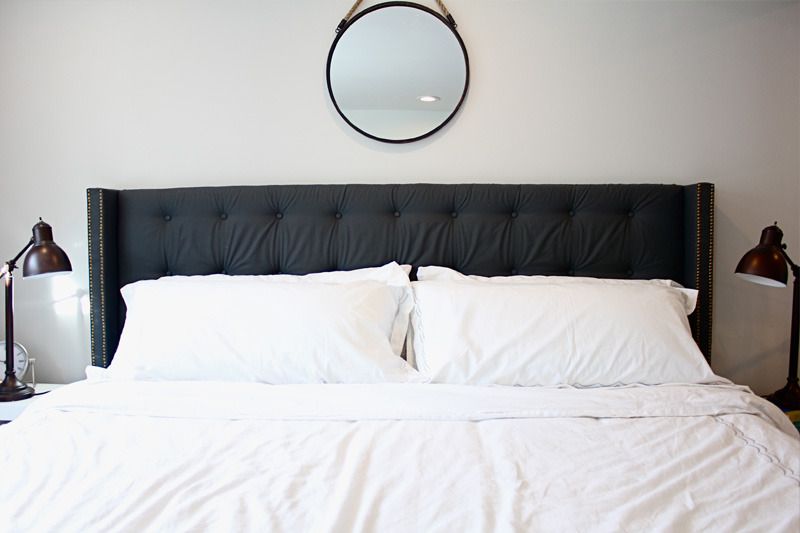 We just upgraded to a king sized bed for the first time, and we love it. We got our mattress on Overstock of all places, and it was shipped to us vacuum packed. The bedding is simple. I can't even decide if I want to add throw pillows. I wanted it to feel like a hotel. Crisp and clean. There is gray scalloped piping around the shams and duvet if you look closely.
The headboard was a major labor of love, and I will share more soon.
Jeremy's nightstand was another antique store find for $25. I painted the top white and left the legs brown. The nightstand lamps were reused from when our master bedroom was upstairs.
Thanks for touring the room with me! I have never been so excited for a blog post before. We saved our pennies for about a year before we started, and we have been working on this room for 6 months, so it feels like such a thrill to finally call it done.
All told, we did all the construction and renovation on this room for around $3000 (not including furniture and decor). We are pretty stoked about that cost. When we first had a contractor come look at the space, we were quoted around $2000 JUST to remove the garage door and put up the outside wall and window (not including materials). That didn't include any of the other construction we did! We finished the window and wall the first weekend and still had months left of work on our hands...imagine how quickly labor costs would have added up! So Jeremy rolled up his sleeves and did the work himself. It took longer, but it saved us so much money which allows us to continue saving for future renovations.
Because we saved a little bit each month over nearly a year, we had enough to do everything we wanted to do and get the furniture we needed without breaking a sweat. We are both budgeting people, and it is a great feeling to be able to make a vision a reality with money already set aside. No stress! Then we bargain hunted and found some amazing, one of a kind pieces that I know we will treasure for years to come.
For those of you who like all the details, here is a complete source list. If that's not you, then thanks for reading and talk to you later :-) xoxo. Wall paint color: Stonington Gray by Benjamin Moore (lightened by 50%) Floor paint color: Gray 2121-10 by Benjamin Moore Platform Bed: Ebay. Painted Graphite by Annie Sloan Chalk Paint with one coat of clear wax. Headboard: DIY. Fabric from Brentwood Interiors. More details to come. Mattress: Overstock. Slumber Solutions 10-in gel memory foam mattress. Sheets: Home Goods Blanket: Macy's - Martha Stewart Duvet Insert: Home Goods Duvet Cover/Shams: Home Goods Mirrored Nightstand: DIY from an Antique Store find Round rope mirror: Kirklands Rug: Home Goods Nightstand Oil Rubbed Bronze Lamps: Home Goods "Antiques" Box on nightstand: Home Goods Card Catalog: Antique Store...painted Graphite by Annie Sloan Chalk Paint (more info) Large Map Art: World Market Curtains: IKEA Left side nightstand: Antique Store Round clock on nightstand: Home Goods Mid-century dresser: moving sale Large rectangular mirror: came with dresser Plates: From my grandmother. Hung with this method Lamp: Target Various picture frames and accessories: from my mom, antique stores, thrift stores, and shopped from my home
I'm noticing a pattern...I like to shop at Home Goods. :-)
Thanks for reading this far! I have received some positive feedback on the blog recently, and I can't tell you how much every single compliment means to me. Thanks for blessing my heart!