I recently completed a gallery wall in the bathroom, and part of the display is a pair of monogram plaques that I DIY'ed from two metal letters I picked up at the Nashville Flea Market several months ago. I have been holding onto them for some sort of art, and this seemed like just the right fit. This DIY craft project was super simple. All you need is: - Wooden Plaques (I got mine at Michael's for around $2.50 a pop and then tacked on a 25% off entire purchase coupon. Bam.). - White paint (and water) - Wood stain (I used Miniwax English Chestnut) - Hot glue - Metal picture hangers - Metal monogram letters (I got mine at the Flea Market for less than $10 each, but here is a place on the web where I found some.
I started by staining the plaques. Since it was raw wood, it didn't take much. I just rubbed on some stain with a paper towel and the wood absorbed the stain like a sponge.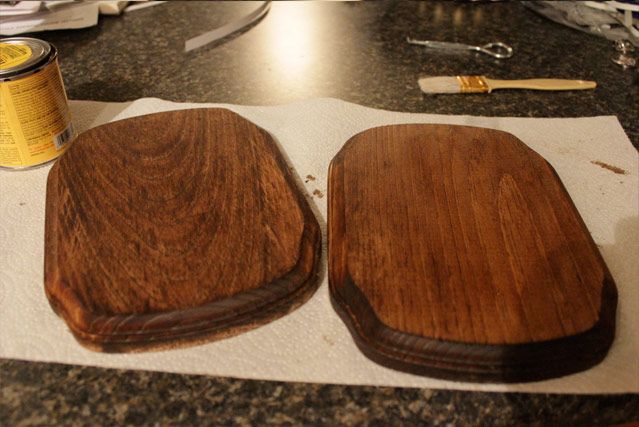 After letting the stain set overnight, I whitewashed the front of the plaque and was careful to leave the edges untouched for a two-tone look.
Whitewashing is easier than it sounds. All it takes is 1 part water to 1 part paint. Mix it up really well (I just used a plastic knife so that I could toss it after), and paint on like paint. I decided to whitewash because I wanted the color and grain of the stained wood to shine through.
I just did one coat of whitewash and let it dry for several hours.
Finally, I hot glued the letters to the wood and nailed in picture hangers on the back.
And voila! They hang above our towel racks for easy identification :-)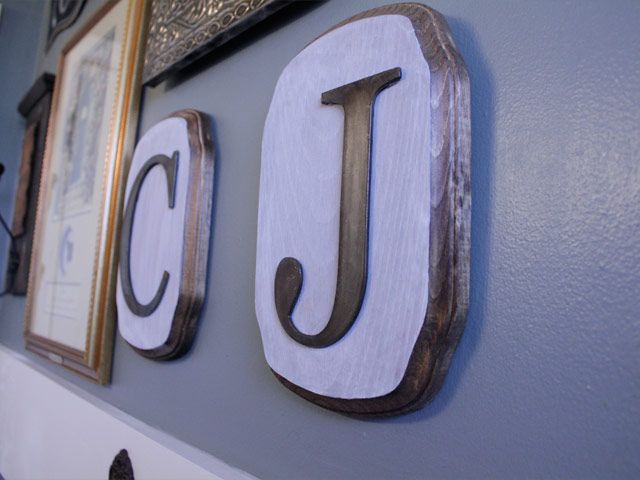 Check out the whole gallery wall here.