Ever since we got married, Jeremy has been begging for a nightstand because our furniture set only has one. After over a year of putting his drink and book and phone on the floor, it was time for a new set of nightstands. I found this pair at a thrift store for $20 a piece. They are pretty and in great shape. Someone obviously put a lot of work into them, but they aren't exactly my style. So I decided to try my hand at distressing for some antique white, lightly distressed bedside tables.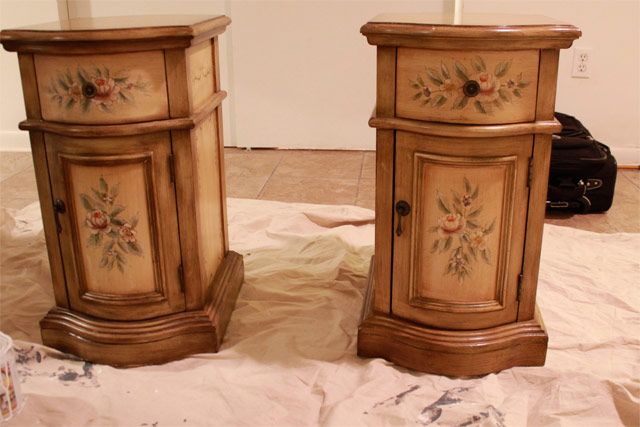 I tried out a few shades of gray, but it just wasn't quite right.
These are laminate, and you can see my complete tutorial on painting laminate here. And another example of laminate painting here.
The absolute key is Glidden gripper primer. I swear by this stuff when it comes to painting laminate. Here were the steps I took... 1. Two Coats of Glidden Gripper Primer 2. Two Coats of Antique White by Valspar 3. Distress 4. Two Coats of Miniwax Polycrylic
So, here is the key to simple distressing...
Paint a coat of brown underneath the the primer and paint. In my case, the brown on the existing paint served as that coat. Then use a medium grit sandpaper to rough around the edges just enough so that the brown shows through.
In my case, all the rounded edges and nooks and crannies were the perfect spots for distressing.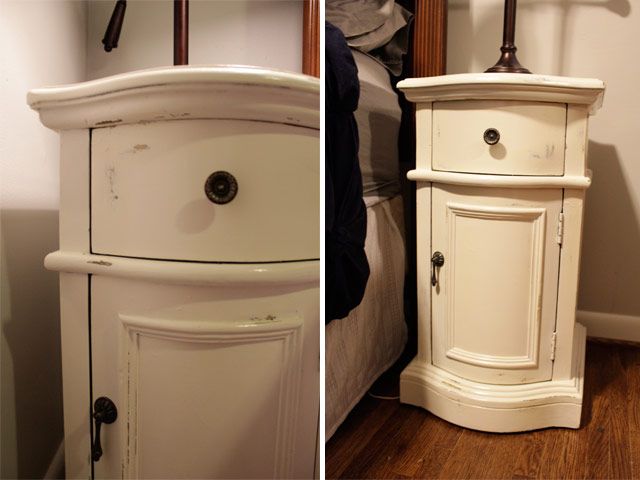 This is all a matter of taste and eyeballing to get exactly the look you want...
Finish it all off with a couple coats of Miniwax Polycrylic for a long lasting finish! *Tip: Don't use polyurethane on white paint. It WILL turn yellow. Polycrylic works great because it is water based instead of oil based and will not yellow over time. It goes on milky white, but it dries clear.
So there you have it. We did a little rearranging in the room to open the space up a bit. I think the lamps at Home Goods are a good start...we are on our way to a stylish bedroom. Here are some of my future plans: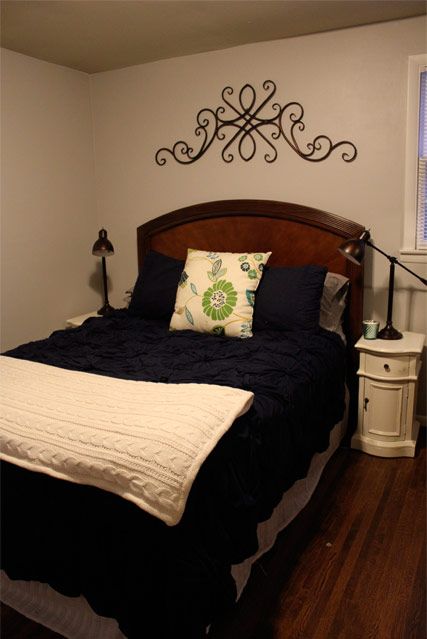 - Install Curtains over the windows - Reupholster a bench for the end of the bed - Find a rug - Style the nightstands - Art for the walls - More decorative pillows for the bed
Stay tuned...