I am a detail girl. Sometimes that is a problem, but in the case of wedding planning, being a detail girl has its perks. And here are some of the details that I treasure about my wedding day. The Invitation Suite My best friend/bridesmaid/college roommate Kate Allen was the hand behind all of the stationery at my wedding. I believe an invitation can set the tone for the wedding, and I absolutely love the way that ours turned out. They were the perfect combination of simplicity and detail.
The peony was my primary wedding flower, and Kate hand water colored a Peony for the RSVP post card that was included as an emblem on the invitation, program, and personalized thank you notes she created. The Flowers Flowers are something that you can plan, but in the end, you trust your florist to deliver your vision. Our florist, Laura Tran at SCF Events, delivered beautifully, and I could not have been more thrilled with our wedding flowers. The week before, I was able to meet with the florist at a flower warehouse and visually see what would be in the bouquets. Then when everything showed up the morning of the wedding, I was blown away. Flowers were a huge priority for me, and I was so pleased. I carried a really large bouquet of coral peonies, garden roses, scabiosa pods, ranunculus, spray roses & dusty miller leaves. It was wider than my waist! I loved how big of a statement it made.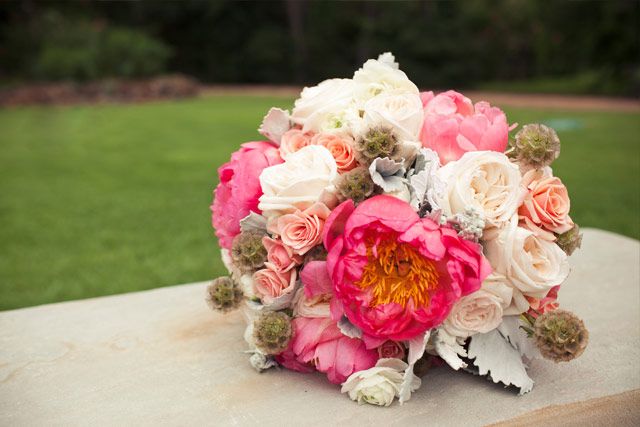 The bridesmaids carried peonies and hydrangeas.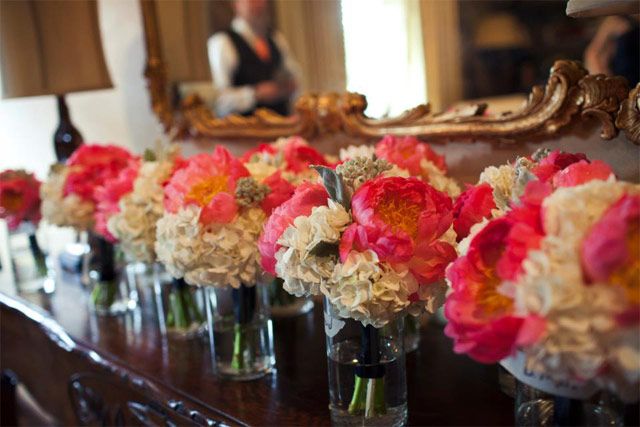 We kept the decor in the chapel simple because I think the beauty of the venue speaks for itself. There was a cascading floral display on the altar table at the front and flowers in mason jars hanging from the pews.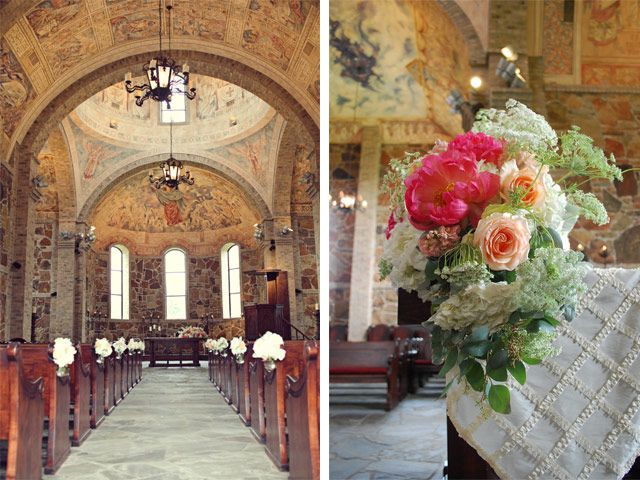 The reception featured several large sprays on featured tables as well as a unique arrangement as a part of every centerpiece. Speaking of which.... The Centerpieces My mother is a genius. We worked together to make each table centerpiece for the 22 tables unique, and I was so thankful for her creative vision.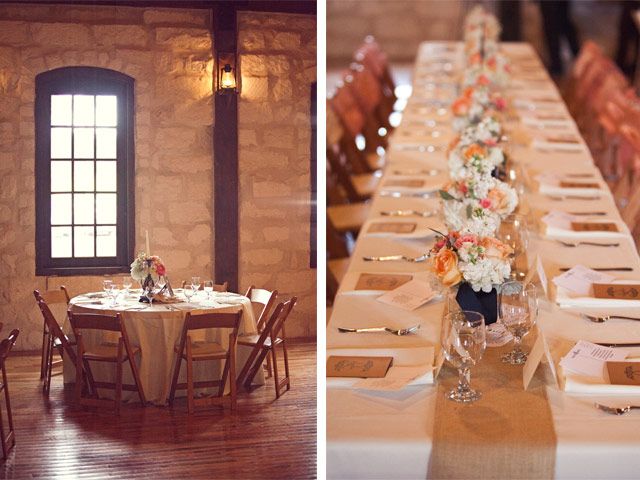 Each table featured a vintage statement piece, a bouquet of flowers, and a picture frame matted with the sheet music from one of my favorite hymns and the table number.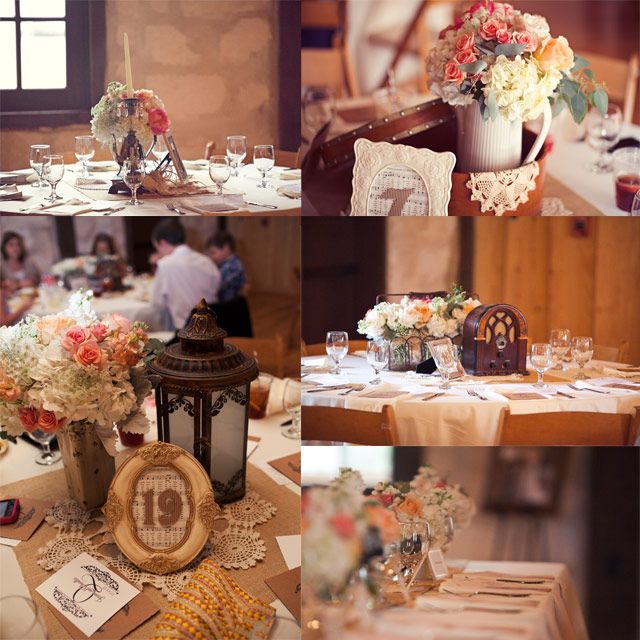 We spent months gathering the items and then laid it all out in advance. The Legacy Table/Cake Table/Guest Book Table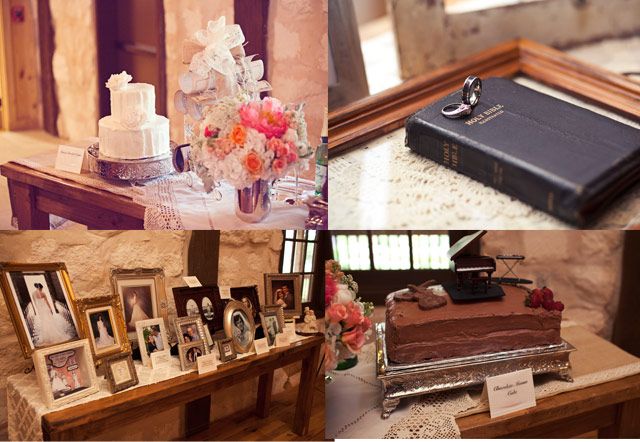 There were several other display tables at the reception, and we made sure they all flowed seamlessly. My mom sewed runners for each table. We used an old hanging grate as a display for seating assignments. Our guest book was an old Bible, and people wrote notes and circled their favorite verses. We also left postcards at all of the tables for people to write a note to us.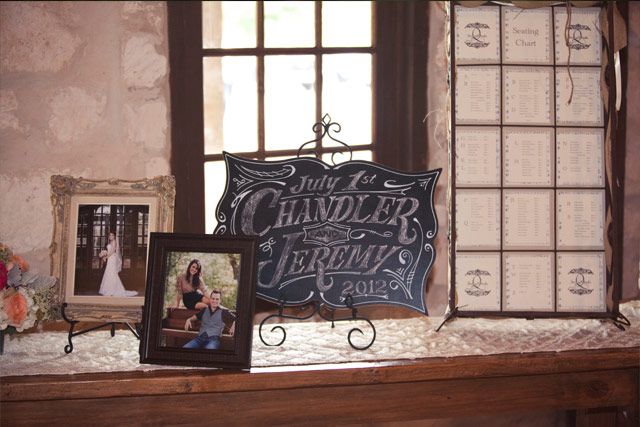 The legacy table featured photos of all of the marriages in our families' histories dating back to our great-grandparents. We have been blessed with lots of long marriages that have gone before us. It also highlighted my wedding drawings from when I was a little girl. I've been planning this day for 15 years. Food/Desserts/Music We didn't get any photos of the food, but I was thankful to hear many guests say it was some of the best wedding food they had ever tasted. We had creamy garlic chicken, gourmet macaroni and cheese, a summer vegetable medley and homemade rolls. Our friend Victoria Bell made the beautiful bridal cake which was lemon with cream cheese frosting and completely delicious. My grandma is a cake baker extraordinaire, and she made the double chocolate grooms cake as well as an Italian cream cake and a carrot cake. My other grandmother baked fresh apple pies. Too bad Jeremy & I were too busy to enjoy all the dessert!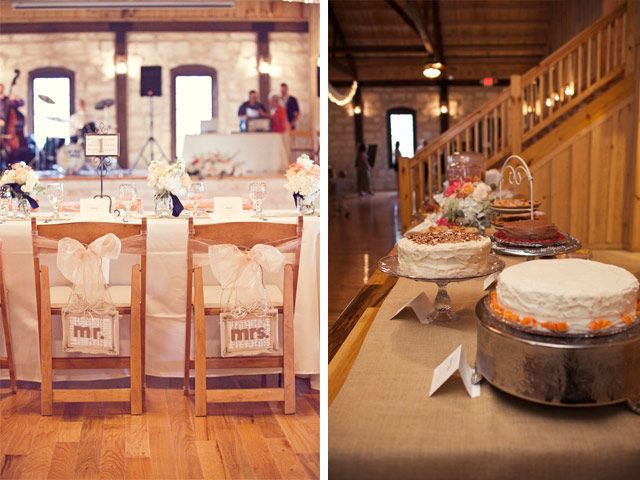 We had a live jazz trio play throughout cocktail hour and dinner. Once dancing time came around, we switched to a DJ who finished out the night. I loved the elegance of the jazz band but when it was time to party we wanted flexibility in the styles of music that were played. Fashion I knew from the beginning what I wanted my dress to be like, and my ideas were confirmed when I went to my first dress appointment and found my dress in the third dress I tried on. Every other dress felt beautiful...for someone else. This one felt like me. I purchased my dress at The Princess Bridal in Old Town Spring, TX. It was designed by Essence of Australia. The color was "Oyster" and it had a bit of a champagne tint to it which I loved.
The lace detail was unique with three dimensional lace flowers and subtle crystals sewn throughout that glistened in the light. It had a fit-and-flare shape that was fitted through my hips and started to flare out around my knees and a distinct sweetheart neckline.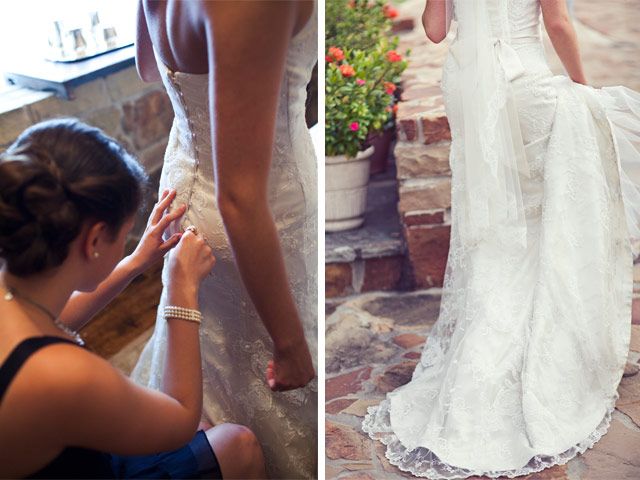 My veil was fingertip length with a subtle lace hem.
The bridesmaids wore navy dresses. There were eight bridesmaids and four styles of dresses so that each style was worn by two girls. I selected them with the girls' styles and body types, and a conservative budget in mind. Two of the dresses were from J.Crew Weddings, one from Ann Taylor Weddings, and one from ASOS.com.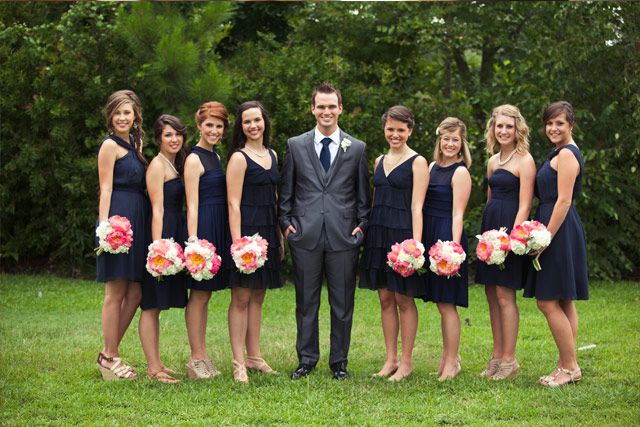 The groomsmen donned gray suit pants and vests with simple gray ties and coral boutonnieres. Phew! That's a lot of details! But if you're a detail girl (or guy) like me, than I hope you enjoyed the peek. All photos were taken by the amazing Yellow Skinny Photos. The bridal portrait in front of the windows was taken by SRR Photography. All flowers were beautifully arranged by SCF Events. You can check out the rest of our wedding! Just click on the links below! Why My Imperfect Marriage Is Better Than A Fairytale Ending Wedding Memories: The Things I Couldn't Plan Part 1: Getting Ready Part 2: The Ceremony Part 3: My Groom Part 4: The Reception Part 6: Our Honeymoon (Coming Soon)