We still have a lot to learn about eating Paleo, but I thought I would still share some links to the recipes that we tried last week. Eating healthy takes more time, but taking the time to plan and prepare meals makes them even more enjoyable. Dinners
Monday - Enchilada Chicken Stew with Avocado
Tuesday - Trader Joe's Pre-Seasoned Pork Tenderloin (This was delicious and so easy! Highly recommend it!) Oven Grilled Asparagus Mashed Cauliflower
Wednesday - Jeremy's Special Seasoned Burgers Without Buns (Secret Recipe. For now :-)) Cubed sweet potato with olive oil & seasonings Fresh Watermelon
Thursday - Spaghetti Squash & Italian Sausage Meatballs with Spaghetti Sauce Cubed sweet potato
Friday - Leftovers
Saturday - Burgers, sweet potatoes, and watermelon again. It was just so yummy the first time.
Sunday - Leftovers again.
Lunches -
For lunches, we mostly ate leftovers from our dinners and salads. I also boiled a few chicken breasts and we packed them with bbq sauce.
Breakfasts -
Most mornings, we enjoyed eggs and chicken sausage, and I made a smoothie with a variety of fruits and vegetables. Delicious AND nutritious. I also drank coffee with almond milk.
Snacks and other treats -
We satiated our desire for something sweet with bits of all natural dark chocolate and Silk Dark Chocolate Almond Milk. We switched from cow's milk to almond milk months ago, and this dark chocolate version was the perfect way to satisfy our sweet teeth after dinner.
An easy and delicious salty snack to munch throughout the day is Vegetable Root Chips. We love the Trader Joe's version. It is a combination of vegetables like sweet potatoes, parsnips, taros, and batatas.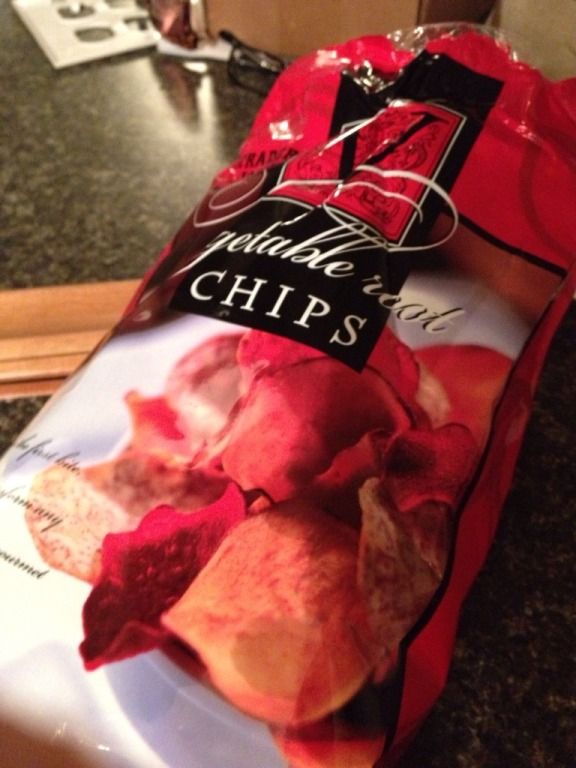 We also tried a recipe for Sweet Potato Chai Paleo "Muffins." They were worth the try, and not half bad, but also, when you are used to regular muffins, these don't make you want to jump up and down or anything. But they almost made me feel like I was eating carbs. And that says something.
Thanks to all of the other bloggers who have experimented with Paleo recipes and made our week easier. I hope this helps someone who wants to go on the journey as well!