You may remember this post where I gushed over the free dresser I got from a Craigslist curb alert. I knew immediately that I wanted it to be our TV stand, but that I wanted to give it a little facelift. It was in good shape, but it is just laminate, and I thought some paint and a little poly-stain could make it look a little classier.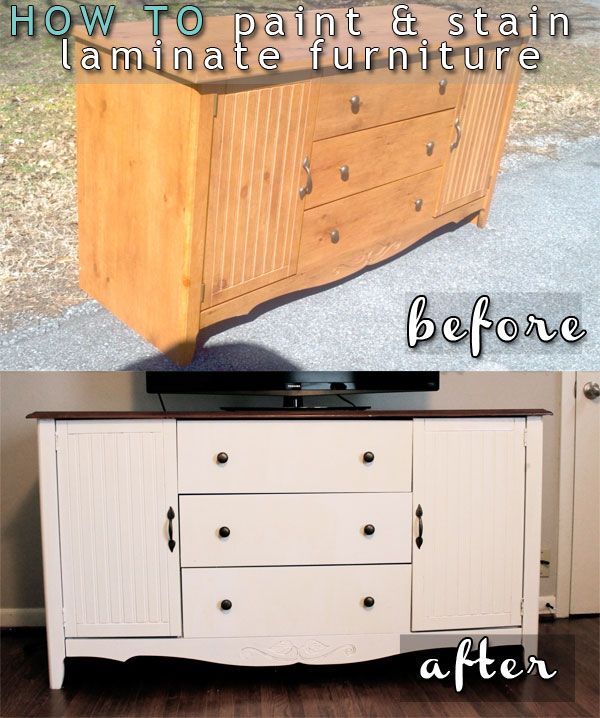 I have never tried painting laminate before, but it can indeed be done! It was very time consuming, but it worked. I will start by explaining how I "stained" the top and then the painting process.
Materials needed: - Glidden Gripper Primer (or other primer designed to adhere to shiny surfaces) - Miniwax Polyshades (I used Antique Walnut) - Paint of choice (I used Polar Bear by Behr in Semi-Gloss) - Light sandpaper - Mini roller/paintbrushes/foam brushes
Part 1: Staining Laminate For the top of the dresser, I really wanted to "stain" it a darker shade and go with a two-toned look. Of course you can't truly stain laminate; there is nothing to stain. But, Katie from Bower Power gave me hope with this post about using Miniwax Polyshades on her laminate fan blades. I thought I would give it a shot.
Polyshades is a combination of polyurethane (poly) and stain (shades). I read lots of reviews that said it was difficult to work with, but I thought it was really simple! With a normal stain, you wipe it on and then wipe it off, but polyshades is like paint in that you just apply it and let it dry.
I chose Antique Walnut as the color, and I could have gone a few shades darker. The laminate doesn't absorb any color, so the shade shows up a bit lighter than I think it probably would on wood (see what I did there?). But four coats and four nights later (I could only do one coat a night), it was looking pretty spiffy. I think it makes the laminate look a little more like real wood if you don't look too closely. Here it is after one coat: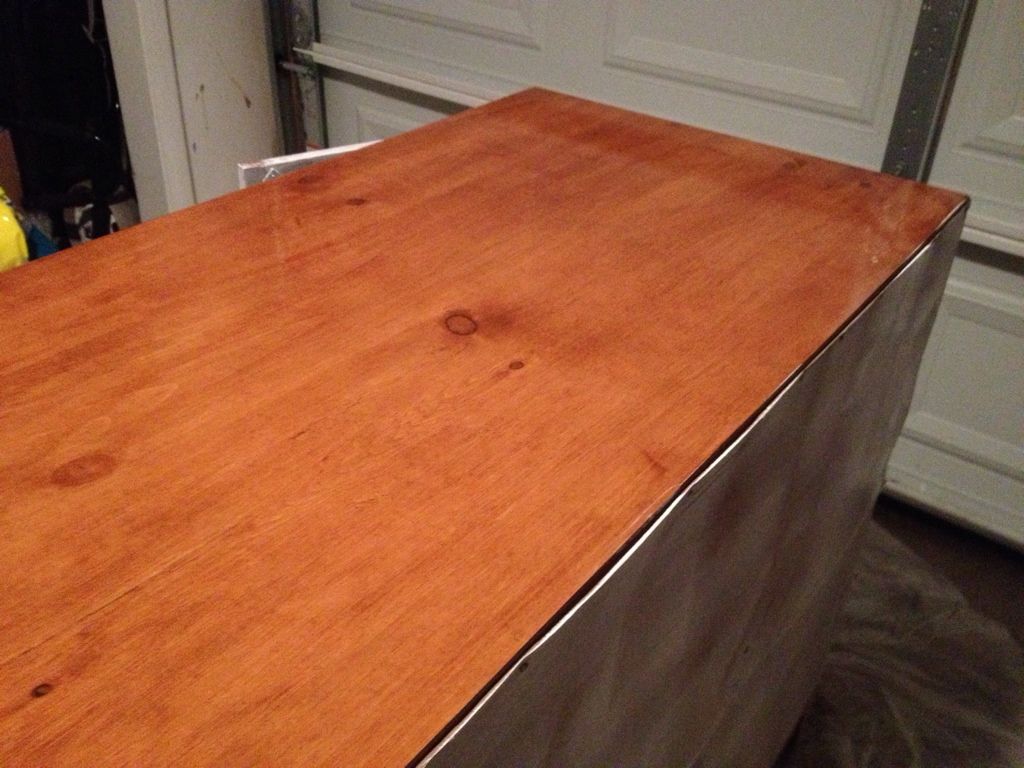 And the final shade after four coats: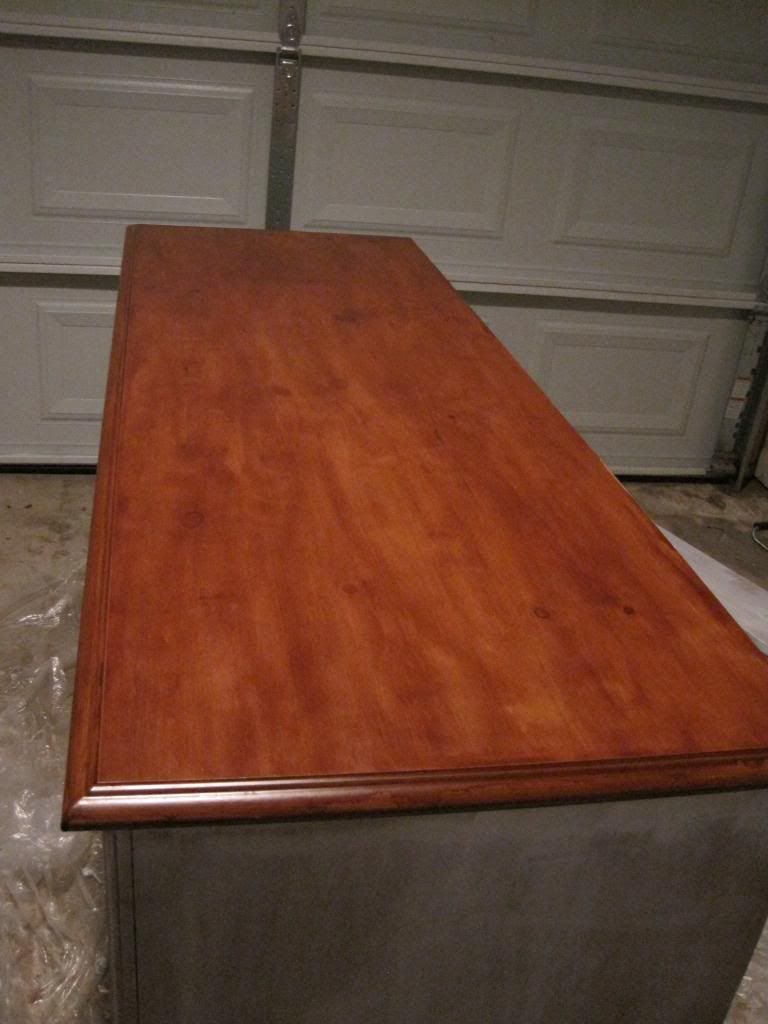 Part 2: Painting Laminate Meet your best friend: Glidden Gripper Primer. I have read that there are several other brands of primer that will do a good job with this, but I had great success with Glidden Gripper. It is important to get a primer that will stick to glossy surfaces and create a gripping surface for the paint to adhere. This one does the trick.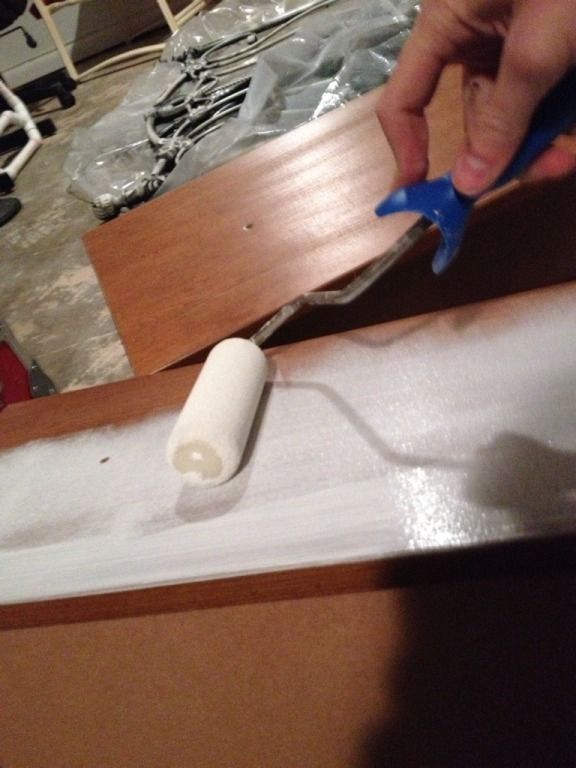 I started out by removing all the hardware and taking the doors off. Then I gave the furniture a light sanding with the sandpaper I had on hand (220 grit). Next, I wiped everything off and attacked it with a roller, a brush, and the primer. I found that two coats of primer was necessary in my case. Here it is all primed and ready to go.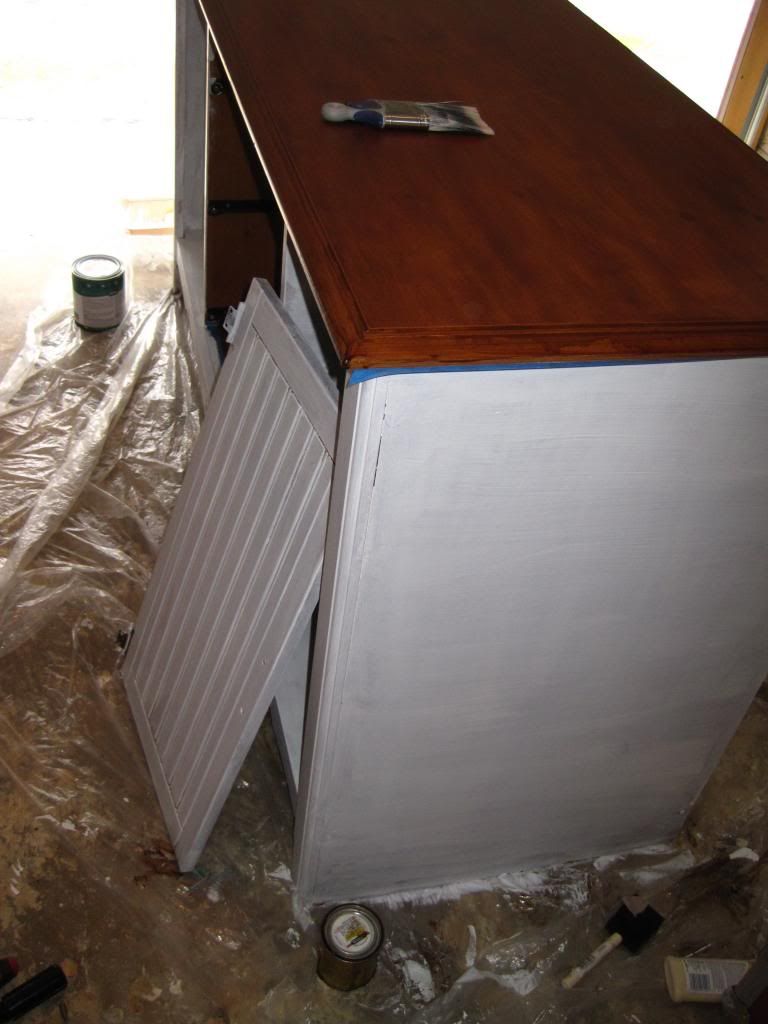 Let me illustrate for a moment the importance of primer. I was lazy the first go-round, and I didn't get it on the edges inside the cabinets. I soon discovered that the painting was completely pointless without the primer.
See that part at the back where the paint isn't sticking AT ALL? Yup. Primer is essential. I had to go back and prime those spots again.
After letting the primer set overnight (it only required 4 hours, but just to be safe), I taped off the edges of the furniture and applied three coats of paint over a couple days with a foam roller and a trim brush. I wasn't prepared for doing three full coats, but it is really necessary.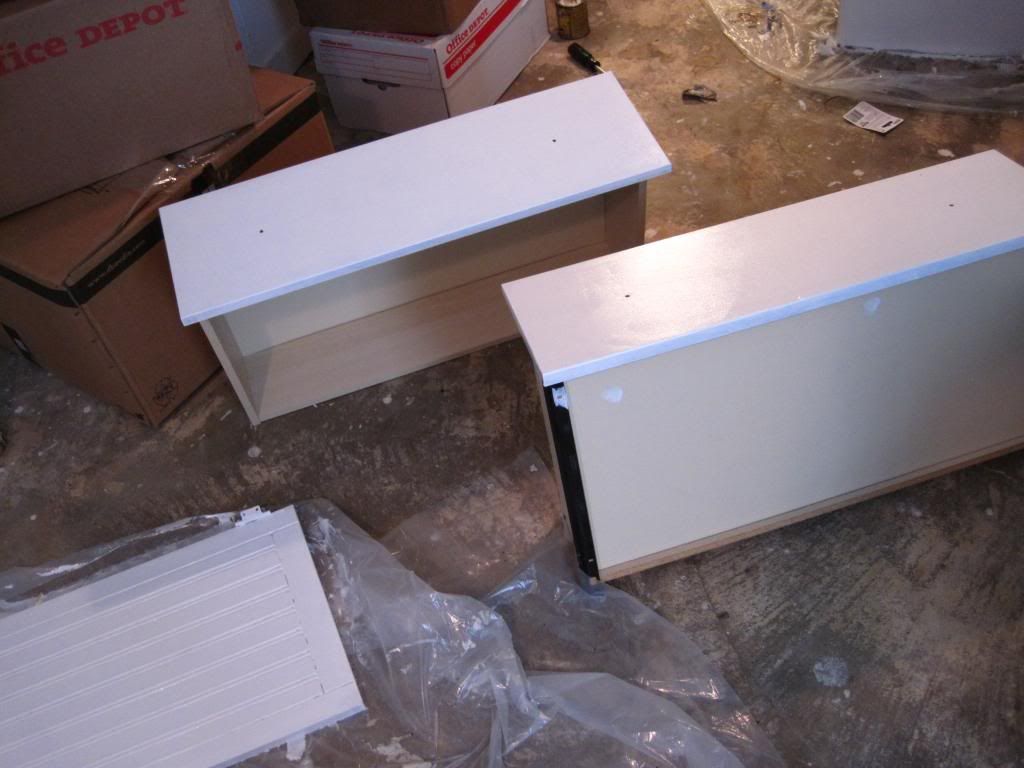 After a good 24 hours drying, we moved the TV stand upstairs and began to reassemble.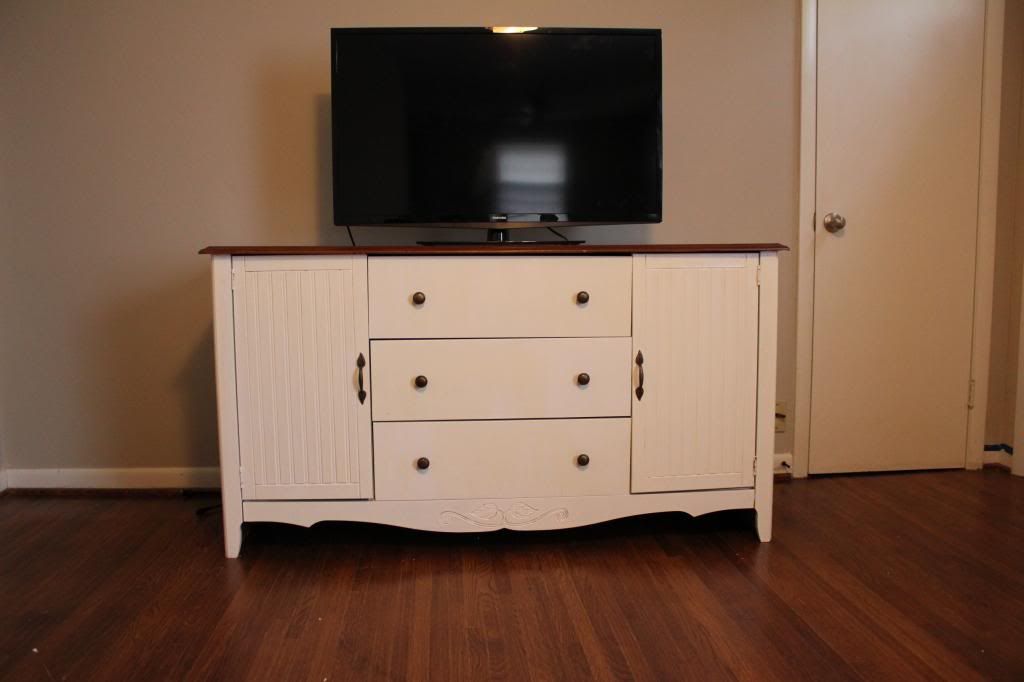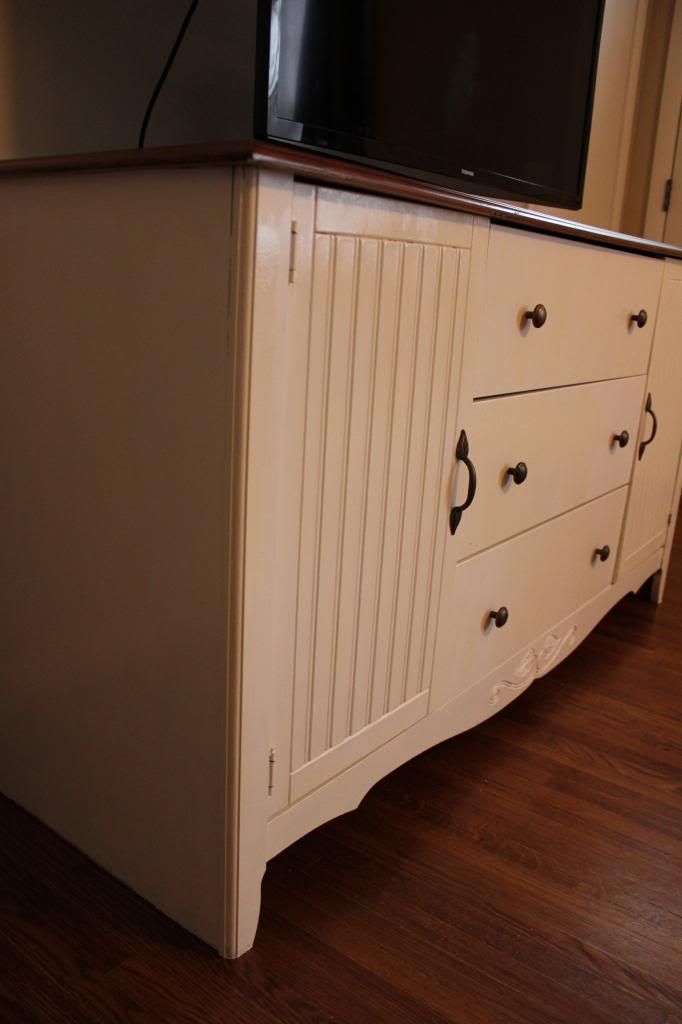 I am so happy with it! This is definitely a week long project. Have patience; don't rush it. Most of my mistakes came because I was rushing to finish.
Have you ever tried refinishing a piece of laminate furniture? Any tips and tricks?
UPDATE: Check out how this project is holding up after a year of use HERE.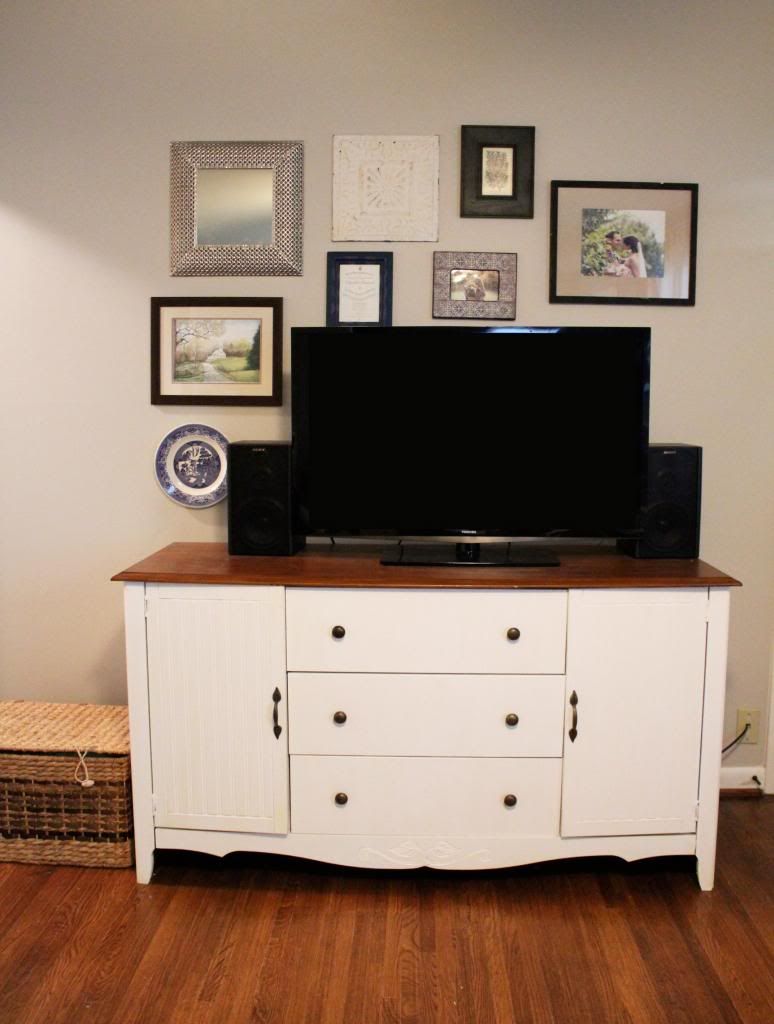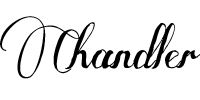 P.S. You may not need a top coat, but I noticed that some of the paint was already prone to chipping, so I decided to apply a coat of Miniwax polyurethane. Then came the big uh oh. The point of panic. Tip: Don't use oil based polyurethane on white or light colored paint. It will turn it yellow. Oh how I wish I had known that before I painted a yellow tint over the beautiful white I had spent days perfecting. After the poly dried, I was able to paint directly over it with another coat of primer and paint, and it was good as new. Oh how I love Glidden Gripper Primer! I plan on letting it cure for a full 30 days, then I will decide whether it needs a top coat or not!
You may also like:
Our HOUSE TOUR
Painting & Staining Laminate Part 2: Blue Desk
Gold Dipped Dining Chair