I am determined to be handy, creative, frugal and a go-getter when it comes to decorating. My first attempt came in the form of two stained, bruised, and outdated chairs that I picked up at a favorite thrift store and gave a new life. They will find a home in our living room, and I am so thrilled with the way that they turned out. Get ready: this was a long process, and this is a long post.
There is a first time for everything.This was my first time to disassemble any furniture, reupholster, shop for fabric, use stain, polyurethane and a staple gun, and strip wood. I guess you could say I'm a newbie. But now I feel like I have at least moved up to amateur status--maybe even intermediate level.
Here is a collection of my tools of the trade. I don't recommend this stapler. See later where I bought a new one. I ended up with different stain too. 
I break down the process into four major steps:
Step 1:Dis-assembly
Take a good look at the situation. Every chair is assembled differently, so you will have to figure out what it takes to remove the upholstery from the chair. Lucky for me, both the seat and the back were completely removable in my case. For the seat, I simply flipped the chair over, removed a few screws, and removed the seat.
For the back, I was completely stumped by how to get around the furniture plugs that covered up the screws I needed to remove. I had no idea how to get them out without breaking them. Tip: You have to break plugs to remove them. This is probably common sense, but I was completely unaware. I nailed into them, broke them, and used a flat head screwdriver and pliers to take the pieces out of the 1/2" holes. You can buy a new pack of furniture plugs at Home Depot or Lowe's for about $3.00 and stain them to match (more on that later). 
During the process I came across some gum stuck underneath the seat and arm. What a lovely treat, right? I dampened it and it was old enough that it just scraped right off. Yum.
Here comes the part I hated the most: removing the staples from the upholstery in order to remove the original fabric. This really was a case of trial and error. I wound up using a really skinny flat head screwdriver and needle nose pliers. I believe you can buy upholstery staple removing tools at sewing stores, but I didn't want to spend any more money than necessary.
Once I figured out the best angle to pry the staples up and invested in a pair of work gloves to save my hands from blisters, the process went much more quickly. Removing all the staples from both chairs still took me at least 5 hours (while watching Jane Austen movies of course). Tip: Save the original fabric. The end result was highly satisfying, and I was pleased to discover that the original padding was in good enough shape that I wouldn't have to replace anything.
Step 2: Reupholstery
I laid the original fabric down (see why I told you to save it) on top of the bolt of upholstery fabric and cut out around it like a pattern. Tip: Be sure to leave a couple of extra inches on each side so you have some wiggle room when you are covering the cushions. Because my chevron pattern has linear zig zags, I cut it right side up to be sure I was cutting straight.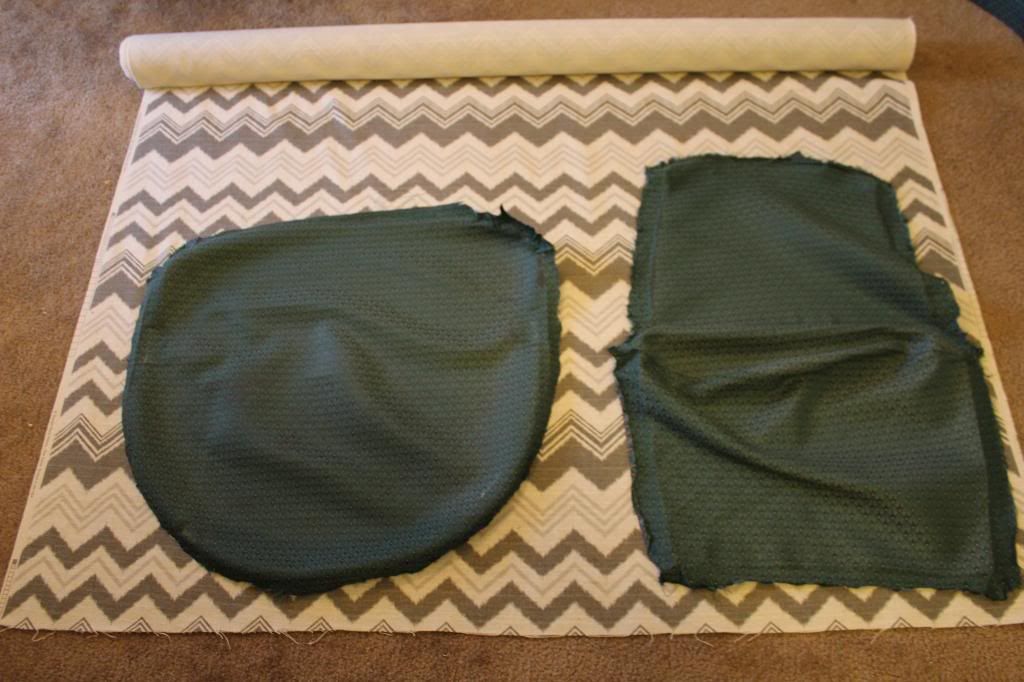 I used 5/8" staples and a staple gun on the new upholstery. I bought a staple gun that doubles as a brad nailer so that it will hopefully come in handy for future home improvement projects. I started out with a Stanley gun, and it didn't have enough power to go into the plywood and almost every staple went in crooked or not at all, so I returned it and got this Dewalt gun. I highly recommend it. It packs a powerful punch.
Be sure to pull the fabric tight and turn the seat around every once in a while to check that it is flat and even. On the seat, staple close to the edge, and cut excess fabric once everything is nice and taut. For the back cushion, I was careful to fold the fabric so that it looked nice since the bottom of the cushion is visible if you are looking up at it from the floor. The back cushion took a little more experimentation to get the folds to turn out correct and the fabric to lay the way that I wanted.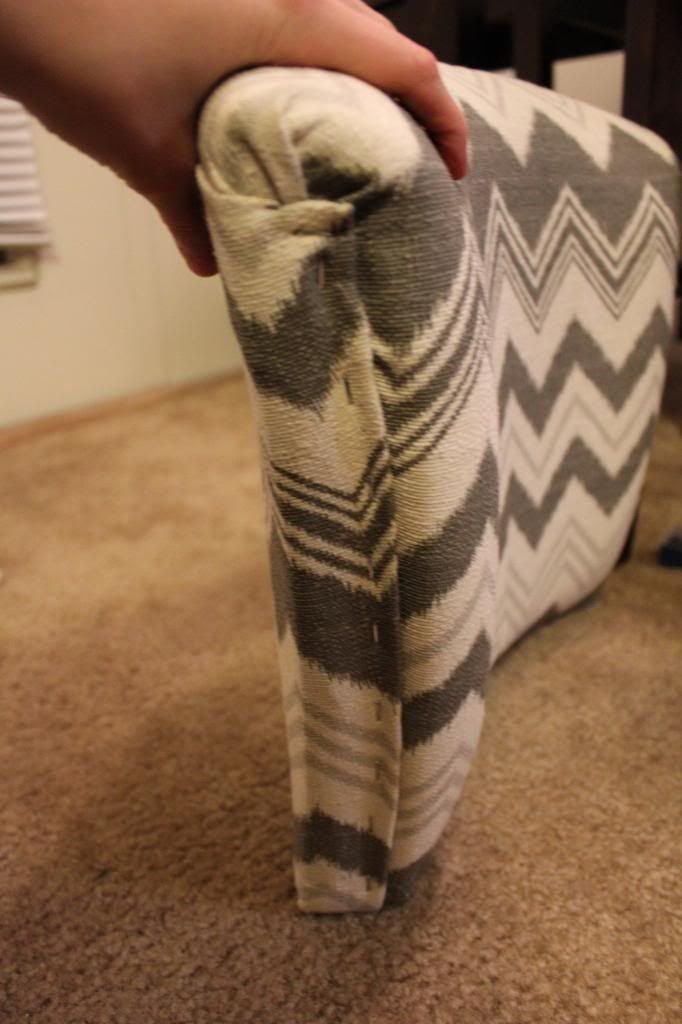 Once I finished this, I set the cushions aside and moved on to the wood frame.
Step 3: Wood Refinishing 
This part totally depends on the state of your chairs. For 85% of the chair, a light sanding to remove the varnish and a few coats of stain was perfect, but the arms gave me grief. In my case, I made two big mistakes: I didn't sand down far enough on the parts that were really beaten up and I bought the wrong color stain to begin with.
I discovered that unless you are going to completely sand down/strip your piece or it is in good shape to begin with, you should really buy the same color stain as the original color. I bought a darker color thinking that when it mixed with the existing red mahogany, the color would be just what I wanted, but the problem came when the Dark Walnut stain hit the gashes in the arms that I didn't properly smooth out, it turned them black, and I was left with black gashes all up and down the arms. I did the only logical thing. I PANICKED!
I talked to the nice man at Lowe's who gave me confidence and looked at my sad pictures of the chair arms, and then I invested in some heavy duty sandpaper (36 grit). I completely stripped the arms, smoothed them out with fine grit sandpaper, and started fresh. This photo was in the middle of that sanding process. I had to keep going to get rid of some more of those black marks.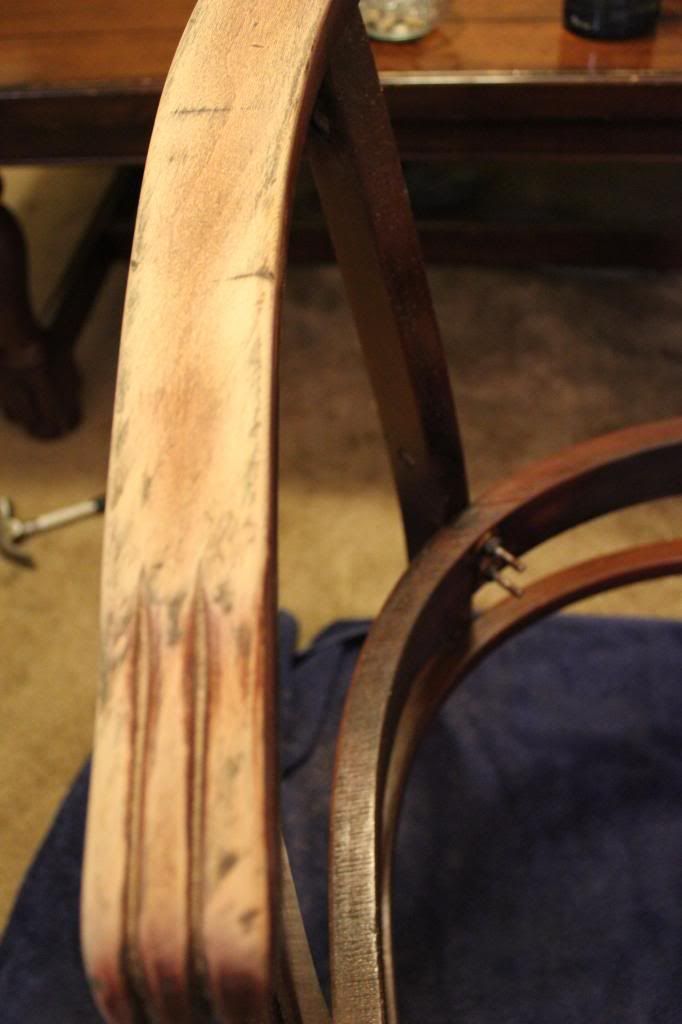 Then when I used the dark walnut stain on the stripped wood, it turned completely the wrong color. I PANICKED AGAIN! Then I calmed down and bought red mahogany stain to match the original color, realized I should have done that to begin with, and I finally got to the right color a couple of coats later. I actually love the way that stripping the wood brought out the grain and gave it a little more of a distressed look. It certainly isn't perfect, but people pay lots of money for things that look a little distressed these days. In hindsight, some wood conditioner and stripper could have been helpful.
Mmm. I actually love how warm the wood turned out and the way that you can see the grain on the arms.
Finally, I sprayed three good coats of Miniwax Clear Satin Fast-Drying Polyurethane in a well-ventilated area, let them sit for several days (24 hours would have been fine, but I was waiting for some husband help), and moved on to step 4.
Step 4: Re-assembly
This is pretty self-explanitory. Put it back together the way that you took it apart. Here is my handsome husband lending a hand. He is better with power tools.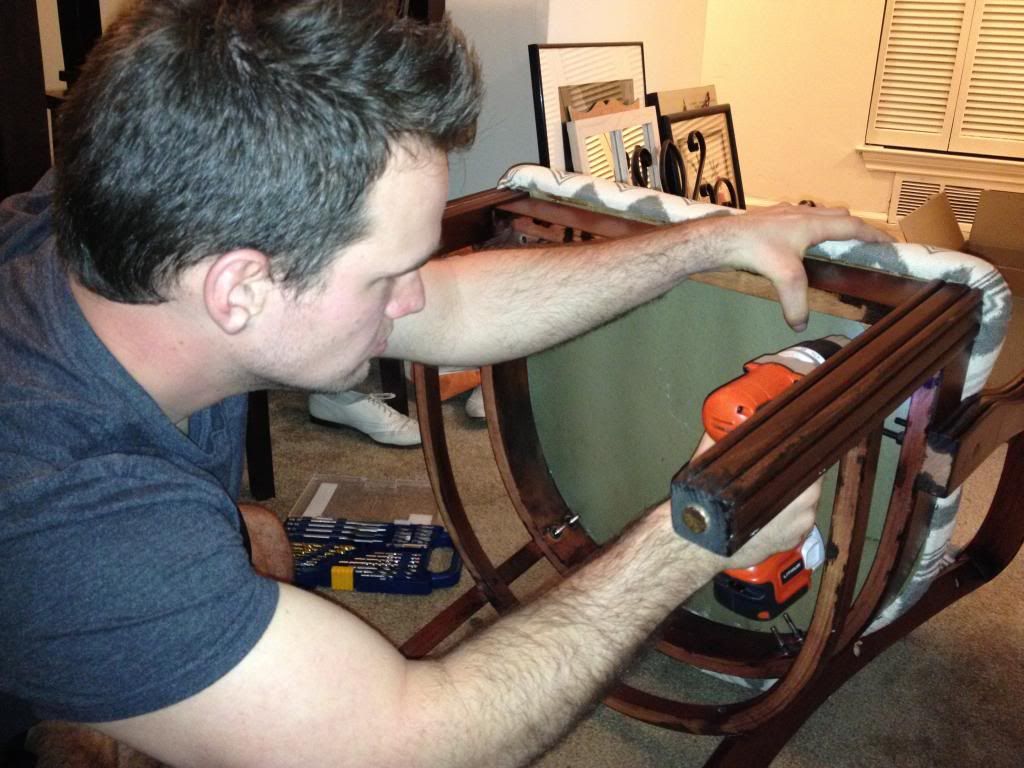 Tip: Make note of where the original screw holes were if you cover them with fabric. This would have saved me some struggle. Once I found them, I got these little wood plugs and stained them and hammered them into place to replace the plugs I broke earlier in the project.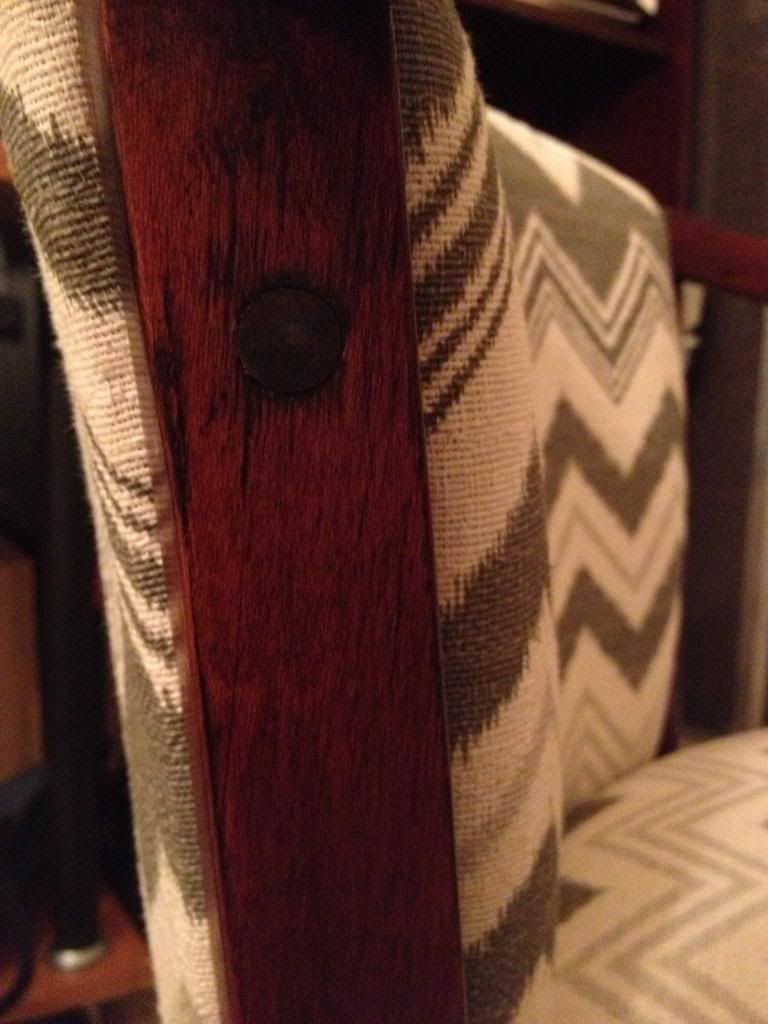 Voila! My finished chairs! DIY is great because not only do you save money, you make memories and create something you are truly proud to display.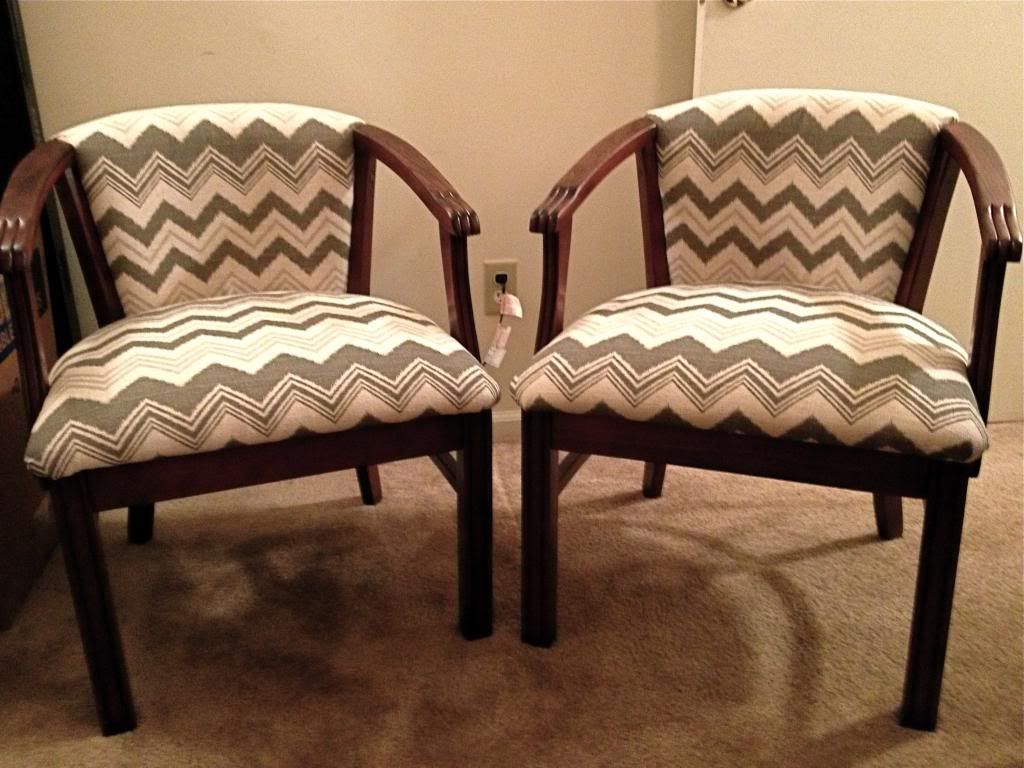 Bring it on, little house. I'm ready for you and all of your DIY glory.
Budget breakdown (rounded to the nearest dollar):
Two chairs at Our Thrift Store in Franklin, TN: $30 Two yards of upholstery grade fabric from The Fabric House: $24 Stain: $12 (I had to buy two different colors...and I bought too much.) Polyurethane Spray: $8 Wooden Furniture Plugs: $3 Sandpaper: $12 
Total: $89 ($44.50 per chair) 
I'd say that's pretty good! To be fair, I also spent money on a staple/brad nailer for the upholstery and work gloves--both of which I will use for many future projects so I didn't include the cost. I also bought way too much fabric (much to my dismay), but I will be using it for other projects down the line and didn't include that cost here just to be fair to those of you who want to tackle a similar project but will be wiser about the amount of fabric you need. Tip: When your husband says there's no way you will use six yards, even though the chart on Pinterest says you will, trust him. Sorry, Jeremy.
I can't wait to get these little chairs into place in the new house! Stay tuned for pictures!
update: See the chairs in place in our living room.